Team is currently not a member of ABA Liga j.t.d.. Its data may not be updated.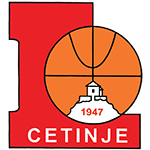 Beginnings
Beginnings Lovćen 1947 Cetinje was established in 1947 as the basketball section of sporting society of Lovćen. Since its establishment until 1992 the club competed in lower ranks of the competitions in former Yugoslavia. The 1992/93 season was the first one for the club to compete in the highest rank of the competitions of its country – Federal Republic of Yugoslavia, where they have played until 2006.
Glory Days
Glory Days It coult be said that the club reached two peaks in its existence. The first one was achieved in the 1998/99 season when they competed in the group phase of the European Radivoj Korać Cup. The second one came in 2003/04 season, when the club reached the regional league, at that time called Goodyear League. They have also played in the Finals of the Montenegrin National Cup in 2007 and in the Finals of the Balkan League in 2009/10 season.
Club Information
Administration
| | |
| --- | --- |
| President: | Savo Parača |
| General Manager: | Farit Kazamanović |
Venue
Sportski centar Lovćen Cetinje
Obilića poljana bb, 81250 Cetinje, Montenegro SHOW MAP
Team Roster, Season 2021/22
Club Statistics
Game Stats
overall
FG2
FG3
FT
Rebs
Blck
Foul
Pts
%
M
A
%
M
A
%
M
A
%
D
O
T
Ass
St
To
Fv
Ag
Cm
Rv
Val
1
Lovćen-Pelister
W
108
58.2
32
49
65.3
7
18
38.9
23
28
82.1
22
8
30
20
8
11
1
4
16
26
129
2
Vr. Osijek-Lovćen
W
94
44.6
17
33
51.5
12
32
37.5
24
32
75
24
8
32
17
17
9
2
0
19
25
115
3
Lovćen-Helios
L
80
48.4
22
41
53.7
9
23
39.1
9
15
60
19
6
25
26
7
12
5
2
18
14
86
4
Spars-Lovćen
L
59
34.7
24
50
48
1
22
4.5
8
19
42.1
24
13
37
14
3
11
3
1
18
20
48
5
Lovćen-Podgorica
W
76
43.1
16
32
50
9
26
34.6
17
29
58.6
22
9
31
15
10
14
4
1
18
24
82
6
Lovćen-Sutjeska
L
79
45.2
19
35
54.3
9
27
33.3
14
20
70
24
7
31
16
6
16
3
4
20
21
76
7
MZT Skopje-Lovćen
L
81
35.7
17
38
44.7
8
32
25
23
29
79.3
21
11
32
16
8
8
3
2
14
27
92
8
Lovćen-Vojvodina
L
81
52.6
21
36
58.3
9
21
42.9
12
22
54.5
25
6
31
15
8
16
4
2
21
24
87
9
Široki-Lovćen
L
95
45.7
22
43
51.2
10
27
37
21
33
63.6
17
10
27
19
10
16
2
3
23
27
88
10
Lovćen-Borac
L
71
33.8
24
50
48
1
24
4.2
20
28
71.4
21
14
35
14
7
10
4
2
19
25
68
11
Zlatibor-Lovćen
L
80
51.5
28
45
62.2
6
21
28.6
6
10
60
21
3
24
21
12
15
2
3
15
15
85
12
Lovćen-Mladost
L
90
41.9
20
35
57.1
11
39
28.2
17
28
60.7
23
12
35
20
2
10
0
1
18
20
84
13
Rogaška-Lovćen
L
81
46.7
20
37
54.1
8
23
34.8
17
22
77.3
29
8
37
15
5
15
2
4
14
23
93
Average:
82.7
44.5
21.7
40.3
53.8
7.7
25.8
29.9
16.2
24.2
67
22.5
8.8
31.3
17.5
7.9
12.5
2.7
2.2
17.9
22.4
87.2
T:13
Total:
1075
44.5
282
524
53.8
100
335
29.9
211
315
67
292
115
407
228
103
163
35
29
233
291
1133
Player Stats
overall
FG2
FG3
FT
Rebs
Blck
Foul
GP
Min
Pts
%
M
A
%
M
A
%
M
A
%
D
O
T
Ass
St
To
Fv
Ag
Cm
Rv
+/-
Val
Banović D.
7
111
16
35.3
4
9
44.4
2
8
25
2
2
100
7
0
7
10
2
8
1
0
8
5
-43
14
Bogdanović B.
11
193
47
34.1
9
16
56.3
5
25
20
14
23
60.9
8
4
12
10
5
11
1
1
28
25
-100
24
Bojanić V.
13
284
99
46.6
35
69
50.7
6
19
31.6
11
19
57.9
28
24
52
19
13
15
0
5
30
18
-75
96
Clarance E.
10
300
185
41.3
43
81
53.1
19
69
27.5
42
56
75
37
4
41
53
20
26
4
4
19
53
-31
205
Hadžibegović A.
7
206
109
48.2
35
60
58.3
5
23
21.7
24
42
57.1
38
18
56
7
8
11
12
4
17
29
-91
128
Jovanović M.
6
18
4
14.3
1
3
33.3
0
4
0
2
4
50
3
2
5
3
1
1
0
1
0
2
-9
5
Kusovac P.
10
183
89
35.4
10
24
41.7
13
41
31.7
30
38
78.9
11
4
15
18
16
16
5
0
25
30
-69
82
Luković U.
3
48
18
58.3
7
11
63.6
0
1
0
4
8
50
9
7
16
1
1
2
6
0
4
8
-5
35
Mugoša M.
9
229
93
34.6
9
27
33.3
18
51
35.3
21
26
80.8
25
5
30
13
7
17
1
4
24
16
-38
59
Novovic M.
4
54
28
78.6
11
14
78.6
0
0
0
6
12
50
5
5
10
1
0
5
2
0
9
7
-28
25
Parača N.
7
97
29
46.4
13
23
56.5
0
5
0
3
9
33.3
12
10
22
6
1
9
2
2
12
12
-32
28
Perović M.
13
309
139
53.3
44
74
59.5
12
31
38.7
15
26
57.7
37
18
55
19
7
12
1
4
29
20
-28
136
Vlahović S.
10
193
51
50
12
21
57.1
7
17
41.2
6
12
50
17
7
24
16
4
7
0
0
14
17
-34
66
Washington I.
10
322
168
46.6
49
92
53.3
13
41
31.7
31
38
81.6
55
7
62
52
18
23
0
4
14
49
-77
230
FG2, FG3 - Field Goals
M - Made
Ag - Against
Rebs - Rebounds
St - Steals
FT - Free Throws
A - Attempted
Foul - Foul
D - Defensive
To - Turnover
Min - Minutes
Blck - Blocks
Cm - Committed
O - Offensive
Val - Index Value
Pts - Points
Fv - in Favoure of
Rv - Received
Ass - Assists
W - Won, L - Lost