Team is currently not a member of ABA Liga j.t.d.. Its data may not be updated.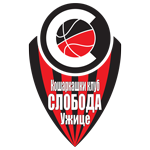 Beginnings
The beginnings of the club date back in the 1949, when a group of high-school kids became interested in basketball. They quickly played two friendly games and in the 1950 there was the first tournament organized in Titovo Užice. The same year there were two teams established – one in the cities Gymnast society and the other in the Sports Society Partizan. Later, the Gymnast society has formed the Sports Society Sloboda and in the 1953 the Sloboda Basketball Club was founded.
Glory Days
Sloboda Užice enjoyed its glory moments in the 188/89 season, when it has participated in the top-tier Yugoslavian Federal League. They have competed against teams such as Partizan, Crvena zvezda, Jugoplastika, Cibona, Olimpija and many others and took the 11th place. After the break up of former Yugoslavia, the club continued to play in the top-tier of the Yugoslavian national championship and took the 7th place in the 1991/92 season, but was relegated a season afterwards. In the modern club's history, its peak is for sure the participation in the ABA League 2 in the 2020/21 season.
Club Information
Administration
| | |
| --- | --- |
| President: | Dr. Goran Tošović |
| General Manager: | |
Venue
Hala veliki park
Veliki park bb, 31000 Užice SHOW MAP
Trophy Case
Club Transfers
Players left Season 2023/24
Dimitrije Nikolić (FMP)
Players arrived Season 2023/24
Club Statistics
Game Stats
overall
FG2
FG3
FT
Rebs
Blck
Foul
Pts
%
M
A
%
M
A
%
M
A
%
D
O
T
Ass
St
To
Fv
Ag
Cm
Rv
Val
FG2, FG3 - Field Goals
M - Made
Ag - Against
Rebs - Rebounds
St - Steals
FT - Free Throws
A - Attempted
Foul - Foul
D - Defensive
To - Turnover
Min - Minutes
Blck - Blocks
Cm - Committed
O - Offensive
Val - Index Value
Pts - Points
Fv - in Favoure of
Rv - Received
Ass - Assists
W - Won, L - Lost