Analysis: Finishing at rim in half court
Wednesday, 21. November 2018 at 11:44
The ABA League teams scoring around their rim in their half court offense have been the competition's most efficient teams this season.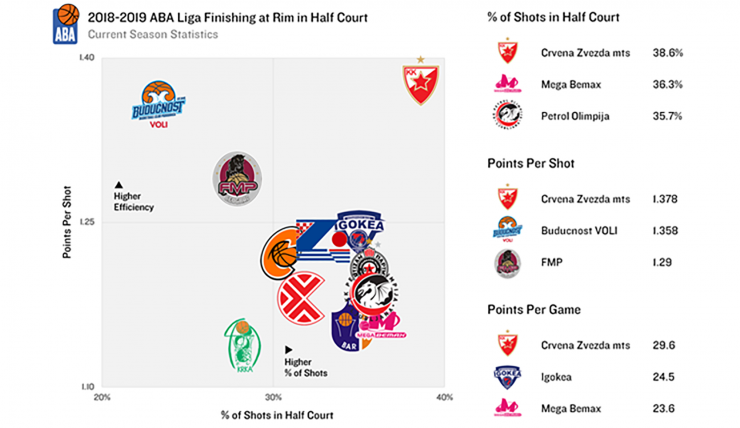 (Photo: Synergy Sports Technology)
The graph above displays which teams in the ABA League get the highest percentage of their shots in the half court from finishing opportunities inside and how efficiently they are in scoring those opportunities in points per shot. The average ABA League team scores 1.23 points per finishing opportunity in the half court making those attempts the second most efficient type of shots in the league this year behind only finishing opportunities in transition and ahead of catch and shoot jumpers, dribble jumpers, and floaters in the half court.
Digging Deeper
Taking a closer look at the graph above, Crvena zvezda mts and Budućnost VOLI are not only the two most efficient finishing teams in the ABA League in their halfcourt offense, but the two most efficient offenses in the competition overall. Zvezda holds a significant edge on Budućnost in overall efficiency and much of that can be explained by how many more shots they generate around the rim in the half court than the reigning champions. At this stage, no team in the ABA League is generating shots inside as frequently or scoring them as consistently as Zvezda. Their 29.6 points per game from finishing chances in their set offense is on pace to break the modern league record.
To understand what drives some teams' efficient so far above other, it is important to note that not all finishing opportunities are created equal. Dunks are more efficient on average than catch and finish layups, which are more efficient than driving layups, which are more efficient than tip ins—some looks are harder to create and more valuable than others. Zvezda leads the ABA League in dunks with 24, just ahead of FMP and Mega Bemax, but dunks have made up just 11% of all shots around the rim in the half court leaguewide this season. More importantly, Zvezda leads the ABA League shooting 64% on layups due in large part to their consistency scoring cuts, the play type that typically leads to the most efficient shots inside. For FMP and Mega Bemax, it is the contributions of a pair of the ABA League's most productive big men the drives their efficiency. Dragan Apić and Goga Bitadze rank first and second in points scored finishing in the half court averaging 9.3 and 8.7 points per game respectively. Each player makes up over a third of their team's points in finishing opportunities and shoot over 70% inside in the half court.
Not only does the value of different types of shots matter, but the players attempting them matter as well. Interior scoring consistency has long been a staple of the ABA League's most efficient offenses and often its most success teams, but each of those teams have found success in different ways.
Insights and Statistics Provided by Synergy Sports Technology