Lovćen 1947 storm past Pelister-Bitola to grab their 1st win of the season
Wednesday, 13. October 2021 at 14:59
Lovćen 1947 made a powerful performance in the match against league newcomers Pelister-Bitola.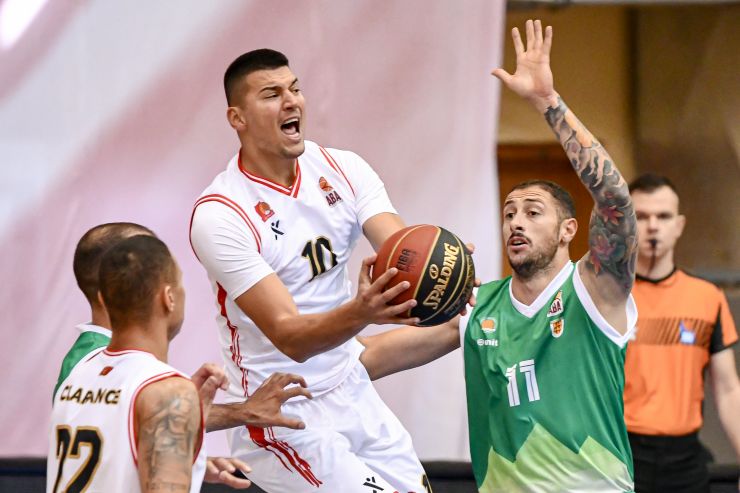 Marko Mugosa (Photo: ABA League 2/Dragana Stjepanovic)
ABA League 2 Round 1, Wednesday, 13 October 2021:
LOVĆEN 1947 - Pelister-Bitola 108:85 (22:19, 30:23, 31:14, 25:29)
Lovćen 1947 made a powerful performance against league newcomers Pelister-Bitola as they scored a convincing win in the last match of Round 1.
Lovćen 1947's offense worked just perfectly in this match. The Cetinje squad scored no less than 108 points today, while they made 30+ points in two out of four quarters. Five players reached double digits in the winning team, while their top scorer was Elijah Clarance with 20 points.
And we have to mention one more player from the Cetinje squad. Lovćen 1947's 15-year-old hot prospect Mašan Jovanović made ABA League 2 history today as he became the youngest player ever to appear in the competition! Mašan entered the court in the 4th quarter and spent the last two minutes in the game.
On the other side, Pelister-Bitola can't be satisfied with their ABA League 2 debut. The green-and-whites suffered heavy defeat at the start of the new season, but, as their head coach Marjan Ilievski said after the game, they won't let this defeat break them. Nikola Malešević was the top scorer today for Pelister-Bitola with 21 points.