Can Zvezda immediately return to the winning track?
Friday, 01. February 2019 at 11:59
On Saturday evening, Crvena zvezda mts will be hosting Petrol Olimpija at home in Aleksandar Nikolić Hall in Belgrade. Can Zvezda get back on the winning track after their first defeat last round or can Petrol Olimpija arrange another upset?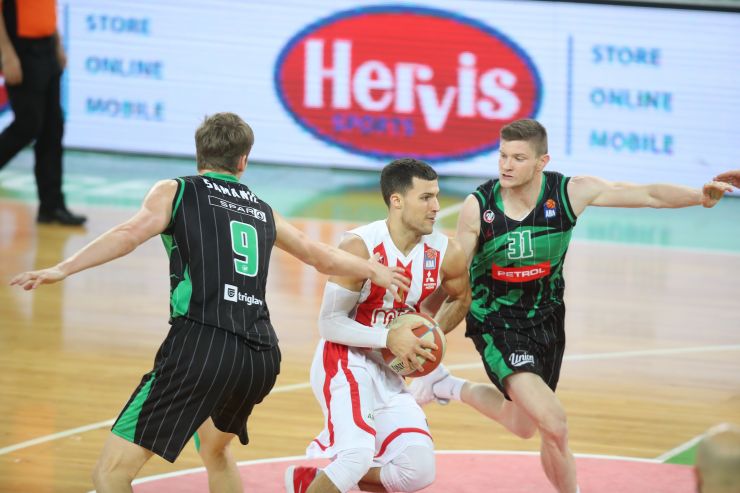 Billy Baron (Photo: Petrol Olimpija/Ales Fevzer)
ABA League Round 18, Saturday, 2.2.2019:
CRVENA ZVEZDA MTS – PETROL OLIMPIJA
Where? Aleksandar Nikolić Hall, Belgrade
When? 19:00
Story of the game: Red and white basketball fans will for sure fill the Aleksandar Nikolić Hall on Saturday night, as their favourites will be hosting Petrol Olimpija in the 18th round of the ABA League season.
Even though it might not seem so, both teams have lots to play for. After Crvena zvezda mts lost their chances to advance to the EuroCup Quarter-finals and lost their first ABA League game this season, they will try to prove that such results lately have only been a coincidence. On the other side, it's not necessary to stress additionally the importance of each remaining game for Petrol Olimpija, as they are trying to escape the danger zone at the bottom of the standings.
So, the question is – can Zvezda get back to the winning track or can Petrol Olimpija arrange an upset?
All of the odds however, are at Zvezda's side, since they have won 4 out of their last 5 games, while the Dragons have only won 1.
Also, Zvezda have won 12 out of total 18 encounters of the two squads in Belgrade in the regional league's history.
Match-up in focus: Joe Ragland against Jan Špan! It will be the clash of excellent players that are shining in the backcourts of their teams. Ragland is currently the top scorer and passer of Crvena zvezda mts (10.9 points and 5.9 assists per game), while Špan is the top passer of Petrol Olimpija (3.8 assists per game) and second best scorer (12.4 points per game). Who will come out on top this time?
Head to head in the regional league: In total 22:14; In Belgrade 12:6.