Team is currently not a member of ABA Liga j.t.d.. Its data may not be updated.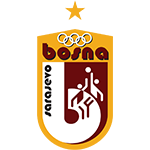 Beginnings
BEGINNINGS Bosna was founded in Sarajevo, back in 1951 as a member of the University Sports Society Bosna, with the roster composed mostly of students coming from the University of Sarajevo. The club needed 21 years to qualify for the Yugoslavian First Division, but with the arrival of legendary Mirza Delibašić Bosna started winning major trophies, including the European title and three Yugoslavian national championships.
Glory Days
GLORY DAYS Without any doubt the most successful year in Bosna's history was 1979, when this club became the European champion. Back then the competition was called FIBA European Champions Cup, while Bosna defeated Italian team Varese in the finals - 96:93. Bosna was the first club from this region to become the European champion.
Club Information
Administration
| | |
| --- | --- |
| President: | Harun Mahmutović |
| General Manager: | |
Venue
Kulturno sportski centar Skenderija
Terezije bb, 71000 Sarajevo SHOW MAP
Trophy Case
Euroleague
1979
National Championship of Bosnia and Herzegovina
1999, 2005, 2006, 2008
B&H National Cup
2005, 2009, 2010
Yugoslavian National Championship
1978, 1980, 1983
Yugoslavian National Cup
1978, 1984
Club Transfers
Players left Season 2022/23
Players arrived Season 2022/23
Club Statistics
Game Stats
overall
FG2
FG3
FT
Rebs
Blck
Foul
Pts
%
M
A
%
M
A
%
M
A
%
D
O
T
Ass
St
To
Fv
Ag
Cm
Rv
Val
FG2, FG3 - Field Goals
M - Made
Ag - Against
Rebs - Rebounds
St - Steals
FT - Free Throws
A - Attempted
Foul - Foul
D - Defensive
To - Turnover
Min - Minutes
Blck - Blocks
Cm - Committed
O - Offensive
Val - Index Value
Pts - Points
Fv - in Favoure of
Rv - Received
Ass - Assists
W - Won, L - Lost