Team is currently not a member of ABA Liga j.t.d.. Its data may not be updated.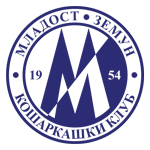 Beginnings
Beginnings In January 1954, former Jedinstvo junior team, led by the legendary Miomir Lilić Like, have founded a new club in Zemun, that has quickly been promoted to the Serbian League. The golden generation of the Mladost senior team have gathered again by the end of the 50s and have led Mladost to the second division of the Yugoslavian club basketball.
Glory Days
Glory Days Several important players have worn Mladost jersey in the past like the ones of Bruno Pavelić, Ivan Matković, Stanislav i Renato Bizjak, Jovan Ivić, Tomislav Vilaret, Zoran Hinić, Dragomir Bukvić, Nebojša Toza Zorkić, Branko Mrđen, Branko Sinđelić, Jovica Antonić, Aleksandar Vučić, Vladan Tegeltija, Nikola Bjegović and Nenad Pujaz. The club, however, has witnessed its brightest moments in 1995/94 season, when they have entered the first division of club basketball in FR Yugoslavia. The second peak has arrived in the 2020/21 season, when they have become members of the ABA League 2 and joined the second tier of the elite regional basketball clubs.
Club Information
Administration
| | |
| --- | --- |
| President: | Nebojša Bjelica |
| General Manager: | Nenad Pujaz |
Venue
SC Master
Cvetna 4, 11080 Zemun SHOW MAP
Team Roster, Season 2021/22
Club Statistics
Game Stats
overall
FG2
FG3
FT
Rebs
Blck
Foul
Pts
%
M
A
%
M
A
%
M
A
%
D
O
T
Ass
St
To
Fv
Ag
Cm
Rv
Val
1
MZT Skopje-Mladost
L
90
47.1
26
44
59.1
7
26
26.9
17
21
81
18
9
27
19
3
10
2
3
31
23
79
2
Mladost-Vojvodina
W
93
45.7
27
55
49.1
5
15
33.3
24
32
75
31
13
44
17
6
16
1
4
23
29
101
3
Široki-Mladost
W
108
61.7
22
36
61.1
15
24
62.5
19
25
76
21
5
26
26
5
10
3
3
17
20
129
4
Mladost-Borac
L
87
45.3
28
57
49.1
6
18
33.3
13
15
86.7
29
10
39
15
5
12
2
3
23
18
85
5
Zlatibor-Mladost
W
110
55.7
32
51
62.7
7
19
36.8
25
31
80.6
25
6
31
23
6
6
1
2
20
26
132
6
Podgorica-Mladost
W
96
53.1
25
42
59.5
9
22
40.9
19
25
76
23
7
30
21
8
13
2
0
18
22
112
7
Mladost-Rogaška
W
102
52.2
28
47
59.6
8
22
36.4
22
29
75.9
27
10
37
25
5
11
1
2
17
22
122
8
Pelister-Mladost
L
83
43.2
24
47
51.1
8
27
29.6
11
18
61.1
22
13
35
18
7
12
3
3
25
18
75
9
Mladost-Vr. Osijek
W
85
42.6
21
43
48.8
8
25
32
19
26
73.1
24
13
37
13
7
9
4
3
20
25
93
10
Helios-Mladost
L
68
40.3
24
46
52.2
3
21
14.3
11
15
73.3
21
12
33
14
5
11
0
3
23
15
54
11
Mladost-Spars
L
98
50
28
47
59.6
9
27
33.3
15
20
75
17
11
28
17
15
13
2
4
20
22
103
12
Lovćen-Mladost
W
114
63
38
47
80.9
8
26
30.8
14
20
70
36
8
44
21
6
9
1
0
20
18
142
13
Mladost-Sutjeska
W
88
48.5
20
42
47.6
12
24
50
12
16
75
26
7
33
16
6
5
0
2
18
19
99
14
Borac-Mladost
L
79
39.7
25
53
47.2
4
20
20
17
27
63
28
15
43
12
4
12
2
1
18
27
82
Average:
92.9
49
26.3
46.9
56
7.8
22.6
34.5
17
22.9
74.4
24.9
9.9
34.8
18.4
6.3
10.6
1.7
2.4
20.9
21.7
100.6
T:14
Total:
1301
49
368
657
56
109
316
34.5
238
320
74.4
348
139
487
257
88
149
24
33
293
304
1408
Player Stats
overall
FG2
FG3
FT
Rebs
Blck
Foul
GP
Min
Pts
%
M
A
%
M
A
%
M
A
%
D
O
T
Ass
St
To
Fv
Ag
Cm
Rv
+/-
Val
Belić M.
5
146
66
60.5
22
35
62.9
4
8
50
10
19
52.6
11
10
21
15
4
10
1
2
20
19
-28
68
Bojić A.
14
418
305
56.7
111
187
59.4
7
21
33.3
62
78
79.5
63
41
104
14
5
22
14
8
25
66
29
347
Carlson C.
3
47
13
40
6
13
46.2
0
2
0
1
1
100
11
7
18
2
1
2
0
1
7
2
-25
17
Gavrilović S.
8
253
179
52.8
48
85
56.5
9
23
39.1
56
70
80
51
18
69
15
3
21
2
3
28
61
44
212
Gibson S.
9
235
85
33.7
11
30
36.7
18
56
32.1
9
11
81.8
27
8
35
18
8
15
3
1
27
11
22
58
Klavžar N.
10
245
77
48.1
18
29
62.1
8
25
32
17
24
70.8
35
2
37
43
11
13
0
2
26
24
38
116
Kovačević N.
14
234
57
32.8
8
25
32
11
33
33.3
8
12
66.7
23
13
36
3
7
6
0
5
16
12
19
45
Livingston O.
13
418
296
52.6
85
146
58.2
25
63
39.7
51
58
87.9
44
8
52
86
31
28
0
2
24
56
44
361
Ljubičić M.
3
70
26
42.1
5
6
83.3
3
13
23.1
7
10
70
7
0
7
12
0
2
0
1
10
9
-8
27
Milenković M.
14
233
70
36.4
5
14
35.7
19
52
36.5
3
8
37.5
13
4
17
11
6
7
0
2
32
8
25
24
Milosavljević Đ.
11
223
55
47.7
17
33
51.5
4
11
36.4
9
15
60
22
6
28
30
6
11
1
0
38
22
28
64
Ristanović A.
4
19
10
40
3
8
37.5
1
2
50
1
2
50
2
3
5
0
1
2
1
0
3
1
2
6
Sarr O.
11
82
17
47.1
8
17
47.1
0
0
0
1
5
20
13
6
19
2
2
5
1
3
29
5
6
-4
Sekulović M.
2
57
26
63.2
12
17
70.6
0
2
0
2
5
40
10
7
17
3
1
4
0
1
3
6
-9
35
Živojinović P.
10
85
19
52.9
9
12
75
0
5
0
1
2
50
16
6
22
3
2
1
1
2
5
2
-2
32
FG2, FG3 - Field Goals
M - Made
Ag - Against
Rebs - Rebounds
St - Steals
FT - Free Throws
A - Attempted
Foul - Foul
D - Defensive
To - Turnover
Min - Minutes
Blck - Blocks
Cm - Committed
O - Offensive
Val - Index Value
Pts - Points
Fv - in Favoure of
Rv - Received
Ass - Assists
W - Won, L - Lost