HKK Široki, Široki Brijeg
Team is currently not a member of ABA Liga j.t.d.. Its data may not be updated.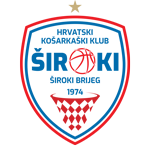 Beginnings
Beginnings Široki of Široki Brijeg was founded on 5 April 1974 on the initiative of former physical education teacher Stanko Jelačić and group of the students of gymnasium. The club used to be called Mladost and played its first games at the concrete playground between famous Široki Brijeg bell towers and the building of gynmasium of Široki Brijeg. It played its first game seven days later against Troglav in Livno and started competing in lower tiers of the BiH Basketbal League. In 1992 the club was renamed to Široki.
Glory Days
Glory Days For many seasons, no less than 12, Široki used to compete in the first division of the regional competition. In the 2001/02 and 2011/12 seasons it managed to claim fifth places in the standings, which is still considered to be the greatest achievement of the club. It also competed in Saporta Cup, Radivoj Korać Cup, FIBA Champions Cup, FIBA European League and EuroChallenge Cup. Široki also became champion of the BiH National Championship 10 times, while it claimed the BiH National Cup trophy 9 times.
Club Information
Administration
| | |
| --- | --- |
| President: | Igor Jelčić |
| General Manager: | |
Venue
Gradska šp. dvorana Pecara
Fra Didaka Buntića 74, 88220 Široki Brijeg, BIH SHOW MAP
Trophy Case
The National Championship of Bosnia and Herzegovina
1998, 2002, 2003, 2004, 2007, 2009, 2010, 2011, 2012, 2019, 2021
The National Cup of Bosnia and Herzegovina
1998, 2002, 2003, 2004, 2006, 2008, 2011, 2012, 2014
Team Roster, Season 2020/21
Club Statistics
Game Stats
overall
FG2
FG3
FT
Rebs
Blck
Foul
Pts
%
M
A
%
M
A
%
M
A
%
D
O
T
Ass
St
To
Fv
Ag
Cm
Rv
Val
1
Široki-Gorica
W
0
0
0
0
0
0
0
0
0
0
0
0
0
0
0
0
0
0
0
0
0
0
2
Zlatibor-Široki
L
80
50
23
37
62.2
6
21
28.6
16
21
76.2
26
12
38
17
3
22
2
3
26
24
79
3
Široki-MZT Skopje
L
73
43.9
17
32
53.1
8
25
32
15
20
75
27
12
39
23
5
22
2
5
26
21
73
4
Sutjeska-Široki
L
66
41.1
17
30
56.7
6
26
23.1
14
23
60.9
18
9
27
13
9
17
1
3
22
27
59
5
Široki-Podgorica
L
83
44.6
16
34
47.1
13
31
41.9
12
15
80
25
7
32
17
8
16
3
1
25
22
84
6
Široki-Borac Banja L.
W
75
46.7
20
38
52.6
8
22
36.4
11
20
55
22
12
34
18
7
11
2
3
20
21
82
7
Helios-Široki
W
77
41.9
17
35
48.6
9
27
33.3
16
25
64
20
13
33
20
10
18
1
1
21
21
77
8
Široki-Sloboda Užice
W
95
52.3
26
46
56.5
8
19
42.1
19
22
86.4
31
9
40
17
8
18
3
0
26
22
107
9
Stud. centar-Široki
L
62
37.9
14
35
40
8
23
34.8
10
25
40
23
6
29
9
2
16
0
3
22
23
33
10
Široki-Rabotnički
W
106
54.5
23
43
53.5
13
23
56.5
21
27
77.8
22
9
31
17
8
9
3
3
20
23
120
11
Lovćen-Široki
L
66
45.6
24
40
60
2
17
11.8
12
20
60
28
6
34
12
4
18
3
4
22
21
57
12
Široki-Mladost
L
76
42.9
18
34
52.9
6
22
27.3
22
31
71
24
9
33
20
7
20
3
3
22
24
77
13
Spars-Široki
L
80
48.4
22
39
56.4
9
25
36
9
11
81.8
18
9
27
13
5
12
3
1
19
18
79
Average:
78.3
46
19.8
36.9
53.5
8
23.4
34.2
14.8
21.7
68.1
23.7
9.4
33.1
16.3
6.3
16.6
2.2
2.5
22.6
22.3
77.3
T:12
Total:
939
46
237
443
53.5
96
281
34.2
177
260
68.1
284
113
397
196
76
199
26
30
271
267
927
Player Stats
overall
FG2
FG3
FT
Rebs
Blck
Foul
GP
Min
Pts
%
M
A
%
M
A
%
M
A
%
D
O
T
Ass
St
To
Fv
Ag
Cm
Rv
+/-
Val
Batinić J.
5
83
22
34.5
8
15
53.3
2
14
14.3
0
2
0
8
2
10
7
1
12
0
1
9
8
-40
5
Bošnjak M.
0
0
0
0
0
0
0
0
0
0
0
0
0
0
0
0
0
0
0
0
0
0
0
-4
0
Buljević L.
12
271
138
59.5
40
65
61.5
10
19
52.6
28
42
66.7
52
30
82
6
1
20
7
2
33
29
-42
160
Čolak M.
12
233
88
39.4
15
37
40.5
13
34
38.2
19
26
73.1
30
13
43
11
11
17
0
5
34
30
-81
77
Čović J.
2
14
0
0
0
1
0
0
2
0
0
0
0
1
1
2
0
0
1
0
0
1
1
-11
-2
Damjanović M.
6
28
5
25
1
4
25
0
0
0
3
4
75
5
6
11
0
0
1
0
1
9
3
-14
4
Davis R.
11
339
169
44.2
45
82
54.9
16
56
28.6
31
42
73.8
25
6
31
47
20
54
0
6
24
47
-18
142
Drežnjak D.
12
399
204
50
41
62
66.1
23
66
34.8
53
76
69.7
67
18
85
28
7
26
9
3
39
80
-20
258
Mandić M.
12
327
79
35.8
23
53
43.4
6
28
21.4
15
25
60
29
8
37
43
10
27
1
3
39
23
-36
62
Marušić A.
3
10
0
0
0
1
0
0
0
0
0
2
0
0
0
0
0
0
1
0
0
1
1
-21
-4
Šušak M.
7
45
3
12.5
0
3
0
1
5
20
0
0
0
5
1
6
3
0
5
0
0
6
1
-11
-5
Thomas A.
6
172
107
50.6
24
52
46.2
15
25
60
14
15
93.3
13
5
18
16
10
9
3
3
17
13
17
99
Vujanović D.
12
142
29
42.3
4
8
50
7
18
38.9
0
0
0
6
4
10
16
5
15
0
0
19
8
17
19
Zubac J.
12
306
95
52.7
36
60
60
3
14
21.4
14
26
53.8
43
19
62
19
11
11
6
6
40
23
29
112
FG2, FG3 - Field Goals
M - Made
Ag - Against
Rebs - Rebounds
St - Steals
FT - Free Throws
A - Attempted
Foul - Foul
D - Defensive
To - Turnover
Min - Minutes
Blck - Blocks
Cm - Committed
O - Offensive
Val - Index Value
Pts - Points
Fv - in Favoure of
Rv - Received
Ass - Assists
W - Won, L - Lost