OKK Sloboda Tuzla, 75000 Tuzla
Team is currently not a member of ABA Liga j.t.d.. Its data may not be updated.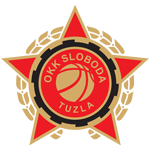 Beginnings
Beginnings Beginnings of basketball in Tuzla date back to the post-World War II. Period. The basketball lovers have founded basketball club Sloboda in 1946. In former Yugoslavia, the club competed in the first federal league of Yugoslavia – YUBA. Afterwards, the club went on to compete in the BiH National Championship. In 2011 the club ceased to compete and faced reorganization, so after 2011, OKK Sloboda became the pillar of basketball in the town and took over all of the elements of KK Sloboda and became a member of Sloboda Sports Society. OKK Sloboda started competing in the lowest tier of the A2 League North of BiH national championship and quickly got to the top division and to the peak of BiH club basketball.
Glory Days
Glory Days Basketball in Tuzla reached its glory days in the 1990s and early 2000s, when Sloboda Dita won three BiH National Championships, four BiH National Cups and two BiH Super Cups, and took part in the Radivoje Korač Cup and in the FIBA Saporta Cup. KK Sloboda Dita played in the first season of regional ABA league (Adriatic Goodyear League) in the years 2001/02 and finished in fifth place. OKK Sloboda reached its best results in the 2014/15 and 2018/19 seasons, when it reached the fourth place in the BiH National Championship. In 2019/20 season, OKK Sloboda became a member of the ABA League 2.
Club Information
Administration
| | |
| --- | --- |
| President: | Aid Berbić |
| General Manager: | |
Venue
SKPC Mejdan
Bosne srebrene bb, 75000 Tuzla SHOW MAP
Trophy Case
BiH National Championship (KK Sloboda Dita):
1994, 1996, 1997
BiH National Cup (KK Sloboda Dita):
1994, 1995, 1996, 1997
BiH Supercup (KK Sloboda Dita):
1999, 2001
Team Roster, Season 2022/23
| # | Name | Position | Height | Date of Birth | Nationality |
| --- | --- | --- | --- | --- | --- |
Club Statistics
Game Stats
overall
FG2
FG3
FT
Rebs
Blck
Foul
Pts
%
M
A
%
M
A
%
M
A
%
D
O
T
Ass
St
To
Fv
Ag
Cm
Rv
Val
FG2, FG3 - Field Goals
M - Made
Ag - Against
Rebs - Rebounds
St - Steals
FT - Free Throws
A - Attempted
Foul - Foul
D - Defensive
To - Turnover
Min - Minutes
Blck - Blocks
Cm - Committed
O - Offensive
Val - Index Value
Pts - Points
Fv - in Favoure of
Rv - Received
Ass - Assists
W - Won, L - Lost