Team is currently not a member of ABA Liga j.t.d.. Its data may not be updated.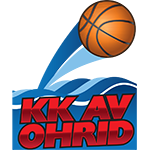 Beginnings
AV Ohrid is a rather new club on the basketball map of the region, as well as Macedonia, as it has been founded only in 2015 by Milčo Doneski. With steady organization and high ambitions, the club has qualified for the top-tier Macedonian domestic club league in their very first season.
Glory Days
The club reached it's peak so far by taking one of the spots in the 2nd division of the ABA League in the 2017/18 season, which is its very first international appearance. And might well become just one of many to come.
Club Information
Administration
| | |
| --- | --- |
| President: | Milčo Doneski |
| General Manager: | Senada Dželo |
Venue
Biljanini Izvori
Ul. Bulevar Turistička b.b. SHOW MAP
Team Roster, Season 2017/18
Club Statistics
Game Stats
overall
FG2
FG3
FT
Rebs
Blck
Foul
Pts
%
M
A
%
M
A
%
M
A
%
D
O
T
Ass
St
To
Fv
Ag
Cm
Rv
Val
1
Ohrid-Borac
L
62
39.7
21
45
46.7
2
13
15.4
14
19
73.7
22
6
28
8
6
11
2
3
20
21
53
2
Lovćen-Ohrid
L
72
53.2
19
29
65.5
6
18
33.3
16
17
94.1
8
2
10
9
6
10
0
0
22
24
66
3
Ohrid-Vršac
L
61
40
16
44
36.4
6
11
54.5
11
12
91.7
13
4
17
6
6
21
1
2
22
15
27
4
Zrinjski-Ohrid
L
62
34.9
19
48
39.6
3
15
20
15
17
88.2
27
8
35
10
6
19
2
4
17
20
52
5
Ohrid-Rogaška
L
56
37
17
38
44.7
3
16
18.8
13
25
52
23
10
33
7
3
16
2
5
24
25
35
6
Dynamic-Ohrid
L
69
37.3
20
44
45.5
2
15
13.3
23
33
69.7
26
6
32
10
8
18
2
4
26
32
58
7
Ohrid-Teodo
L
82
45.3
25
50
50
4
14
28.6
20
29
69
22
9
31
14
7
10
2
1
17
26
90
8
Split-Ohrid
L
73
43.1
26
52
50
2
13
15.4
15
22
68.2
26
12
38
20
6
24
4
3
16
21
75
9
Ohrid-Bosna
W
0
0
0
0
0
0
0
0
0
0
0
0
0
0
0
0
0
0
0
0
0
0
10
Krka-Ohrid
L
52
32.8
19
55
34.5
2
9
22.2
8
20
40
24
11
35
13
8
19
3
2
16
23
42
11
Ohrid-Koper Primorska
L
58
35.7
18
45
40
2
11
18.2
16
31
51.6
26
12
38
9
2
21
1
1
21
26
40
12
Borac-Ohrid
L
71
43.1
28
56
50
3
16
18.8
6
13
46.2
25
7
32
13
6
11
3
3
26
21
58
13
Ohrid-Lovćen
L
75
41.2
26
55
47.3
2
13
15.4
17
28
60.7
29
15
44
4
3
20
2
3
22
24
56
14
Vršac-Ohrid
L
79
45.2
29
54
53.7
4
19
21.1
9
17
52.9
29
12
41
9
6
20
1
5
21
22
64
15
Ohrid-Zrinjski
L
89
53.1
27
47
57.4
7
17
41.2
14
23
60.9
18
3
21
19
8
12
3
1
24
20
84
16
Rogaška-Ohrid
L
76
47.5
21
39
53.8
7
20
35
13
19
68.4
16
9
25
14
10
23
1
2
19
19
64
17
Ohrid-Dynamic
L
90
42.2
27
53
50.9
8
30
26.7
12
21
57.1
23
11
34
13
5
6
1
0
22
21
79
18
Teodo-Ohrid
L
57
32.4
19
47
40.4
5
27
18.5
4
5
80
22
11
33
5
4
10
2
6
20
13
27
19
Ohrid-Split
L
76
45.2
20
39
51.3
8
23
34.8
12
17
70.6
15
7
22
8
2
9
0
0
25
19
54
20
Bosna-Ohrid
L
82
50
21
45
46.7
8
13
61.5
16
18
88.9
30
4
34
18
5
21
1
2
21
19
84
21
Ohrid-Krka
L
69
41
22
47
46.8
3
14
21.4
16
22
72.7
21
10
31
10
6
15
1
0
25
22
57
22
Koper Primorska-Ohrid
L
54
31.8
17
52
32.7
4
14
28.6
8
12
66.7
30
8
38
12
3
16
3
3
15
19
46
Average:
69.8
41.4
21.8
46.9
46.4
4.3
16.2
26.7
13.2
20
66.2
22.6
8.4
31
11
5.5
15.8
1.8
2.4
21
21.5
57.7
T:21
Total:
1465
41.4
457
984
46.4
91
341
26.7
278
420
66.2
475
177
652
231
116
332
37
50
441
452
1211
Player Stats
overall
FG2
FG3
FT
Rebs
Blck
Foul
GP
Min
Pts
%
M
A
%
M
A
%
M
A
%
D
O
T
Ass
St
To
Fv
Ag
Cm
Rv
+/-
Val
Bakoč F.
12
219
64
29.9
21
53
39.6
5
34
14.7
7
13
53.8
38
17
55
9
3
9
4
0
27
16
-132
48
Barry R.
9
303
192
51
70
124
56.5
6
25
24
34
56
60.7
29
13
42
4
7
24
1
4
22
67
-212
168
Bojovski P.
19
122
25
50
11
22
50
0
0
0
3
9
33.3
20
24
44
4
6
3
0
1
31
6
-90
33
Cogo E.
10
37
0
0
0
10
0
0
4
0
0
2
0
5
2
7
4
0
8
0
1
6
2
-54
-18
Donakoski S.
11
44
14
29.2
7
21
33.3
0
3
0
0
5
0
9
7
16
2
1
4
0
2
4
4
-31
5
Doneski A.
18
517
65
23.8
10
45
22.2
14
56
25
3
8
37.5
19
6
25
28
5
37
0
7
43
9
-390
-37
Gligorijević S.
20
444
109
38.7
40
102
39.2
3
9
33.3
20
36
55.6
78
16
94
12
14
22
12
6
80
34
-323
83
Janeski B.
15
287
74
39.4
10
19
52.6
16
47
34
6
12
50
27
4
31
10
7
17
0
0
39
9
-188
29
Junaković M.
6
214
137
44.7
43
87
49.4
8
27
29.6
27
39
69.2
19
1
20
21
10
33
0
5
21
43
-120
97
Lefkovski V.
19
192
36
22.9
5
20
25
6
28
21.4
8
17
47.1
17
4
21
8
4
11
0
0
30
25
-84
7
Mihajlovski S.
13
217
57
42.1
22
50
44
2
7
28.6
7
10
70
27
4
31
13
5
8
1
2
16
12
-194
57
Nikoloski A.
11
38
6
22.2
0
0
0
2
9
22.2
0
0
0
1
0
1
0
1
3
0
0
1
0
-36
-3
Ross K.
21
654
376
47.3
117
232
50.4
16
49
32.7
94
110
85.5
73
16
89
65
27
80
0
13
56
124
-475
368
Stojanoski H.
3
7
0
0
0
1
0
0
1
0
0
0
0
1
1
2
0
0
2
0
0
1
0
-7
-3
Thomas L.
5
93
28
47.6
9
16
56.3
1
5
20
7
8
87.5
12
6
18
2
3
6
3
3
11
10
-101
32
Tsonkov S.
6
154
83
50
15
30
50
5
10
50
38
49
77.6
13
5
18
10
7
17
0
3
20
36
-83
83
Zafirov G.
14
123
38
27.9
6
19
31.6
6
24
25
8
13
61.5
8
3
11
3
6
8
2
1
11
11
-81
15
Zimić E.
16
421
161
52.9
71
133
53.4
1
3
33.3
16
33
48.5
79
48
127
36
10
40
14
2
22
44
-274
247
FG2, FG3 - Field Goals
M - Made
Ag - Against
Rebs - Rebounds
St - Steals
FT - Free Throws
A - Attempted
Foul - Foul
D - Defensive
To - Turnover
Min - Minutes
Blck - Blocks
Cm - Committed
O - Offensive
Val - Index Value
Pts - Points
Fv - in Favoure of
Rv - Received
Ass - Assists
W - Won, L - Lost