Spars beat Podgorica once again and advance to the Finals
Sunday, 25. April 2021 at 15:59
Spars are the first finalists of the 2020/21 #ABALiga2 Playoffs!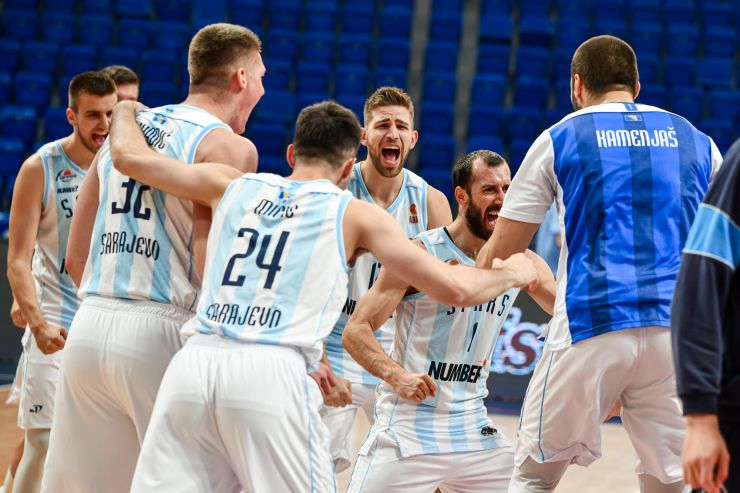 (Photo: ABA League/Dragana Stjepanovic)
ABA League 2 Semi-Finals, Round 2, Sunday, 25 April 2021:
SPARS - Podgorica 74:59 (17:6, 29:17, 17:23, 11:13) *Agg. 146:123
Spars are the first finalists of the 2020/21 #ABALiga2 Playoffs! The boys from Sarajevo have defeated Podgorica in both games of this semi-final series and have therefore reached the ABA League 2 Finals for the first time in club's history.
Spars won Game 1 by 72:64, while they triumphed in Game 2 by 74:59.
Game 2 was a one-way street from the very start. Spars conceded only 6 points in the opening quarter in which they already gained a double-digit lead – 17:6, while they have increased the gap to 23 points until the halftime – 46:23. In the rest of the match, Podgorica have only managed to reduce the deficit, but that was not enough to grab the ticket for the Finals.
Spars big guy Kenan Kamenjaš made an absolutely stunning performance as he finished the match with 23 points, 11 rebounds and the overall index rating of 35. What is especially impressive is that Kamenjaš has not missed a single shot in this match – 9/9 FG2, 5/5 FT. On the other side, Mikaile Tmušić was the top scorer in Podgorica team with 12 points.
Spars are now waiting to see whether they will play against Studentski centar or Mladost MaxBet in the Playoffs Finals. Recall that Studentski centar won the first game by 86:85, while the rematch is scheduled for Monday, April 26.