Đukanović and Popović guide Lovćen 1947 toward the win vs. Sloboda Užice
Monday, 09. November 2020 at 12:59
We had a real ABA 2 thriller already at the start of the new season!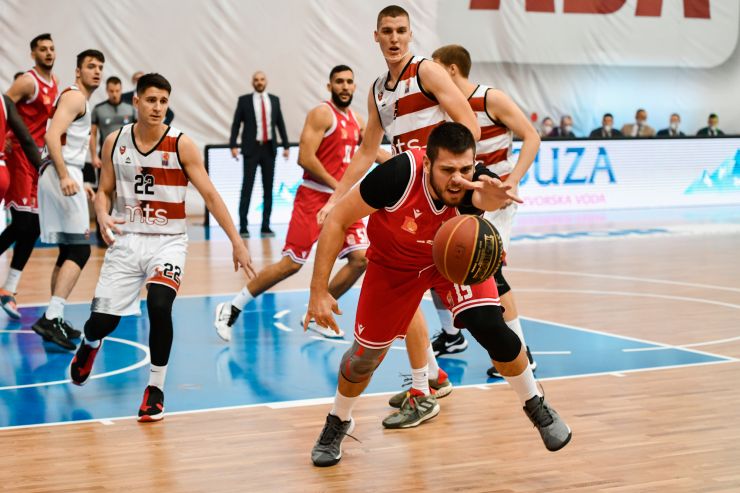 (Photo: ABA League)
2020/21 ABA League 2 Regular Season, Round 1, Monday, 9 October, 2020:
Sloboda Užice - LOVĆEN 1947 92:95 (28:24, 18:25, 14:31, 32:15)
The 2020/21 ABA League 2 season has started with a thriller! Lovćen 1947 prevailed over Sloboda Užice in a very exciting game in which the losing side almost performed one of the biggest comebacks ever seen in the regional league.
Led by Milutin Đukanović and Miloš Popović, Lovćen 1947 gained a 20-point lead in the 3rd quarter – 80:60 and it seemed that the final 10 minutes will be just a formality for the Cetinje side to confirm their win. However, Sloboda then started melting the gap rapidly! The boys from Užice were so good in the last quarter that they managed to reduce their opponents' lead to just 2 points – 90:88, with 17 seconds left to be played.
Still, Lovćen 1947 player Mladen Grušanović saved his team by scoring two crucial free throws in the following play for 92:88.
Milutin Đukanović with 26 points and Miloš Popović with 25 points were the top scorers in Lovćen 1947, while on the other side Dimitrije Nikolić made 28 points for Sloboda Užice.