Miller-McIntyre beats the buzzer and keeps Olimpija in Playoffs race
Monday, 09. March 2020 at 18:50
In the Match of the 21st round of the ABA League season, Cedevita Olimpija have prevailed over Budućnost VOLI and remain in the Playoffs race with one round remaining in the regular season.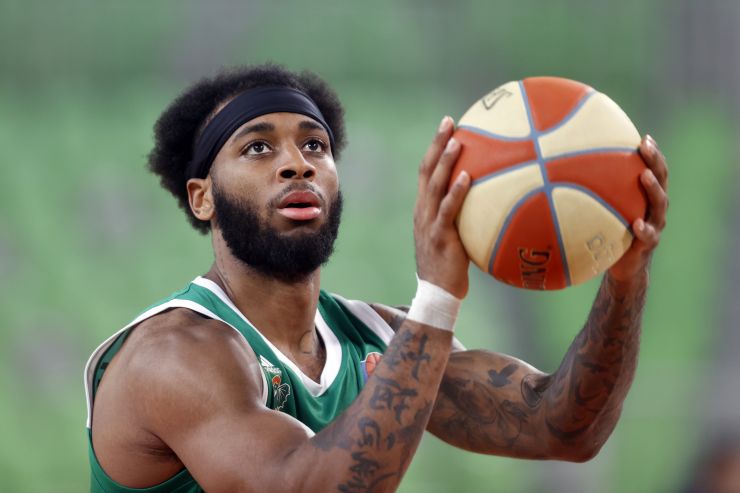 Codi Miller-McIntyre (Photo: Cedevita Olimpija/Ales Fevzer)
ABA League Round 21, Monday, 9.3.2020:
CEDEVITA OLIMPIJA - Budućnost VOLI 81:79 (18:18, 20:20, 17:21, 26:20)
Game recap: Cedevita Olimpija fans are celebrating the win of their squad in the empty Stožice Arena in the derby game against Budućnost VOLI, which extends the hopes of the Ljubljana squad of reaching the Playoffs. They now hold the same number of wins as Mornar (13) and one less than Crvena zvezda mts and it's clear that in the last round they need to win and Mornar to be defeated in order to qualify for the ABA League Playoffs. On the other side, Budućnost VOLI continue their season with 15 wins on their record, one less than first-placed Partizan NIS, but the latter still have their 21st round game to play.
Key moments: All the happening in the game in the end came down to the final seconds, as Cedevita Olimpija had the last possession and Codi Miller-McIntyre scored to prevent the overtime and hand his team a pair of points.
Man of the match: Jaka Blažič shined this time around for Cedevita Olimpija, as he had a double-double, with 13 points, 14 rebounds, 2 assists and a valuation of 18. He is rightfully our man of the match.
Can't trick the stats: Cedevita Olimpija have outrebounded Budućnost VOLI 31:26 and that was the key to their victory in the end.