Cedevita Olimpija stronger than Zadar
Saturday, 08. February 2020 at 18:00
In the 19th round of the ABA League season, Cedevita Olimpija have prevailed over Zadar at home in Stožice and got their revenge for the defeat in Višnjik in the first part of the season.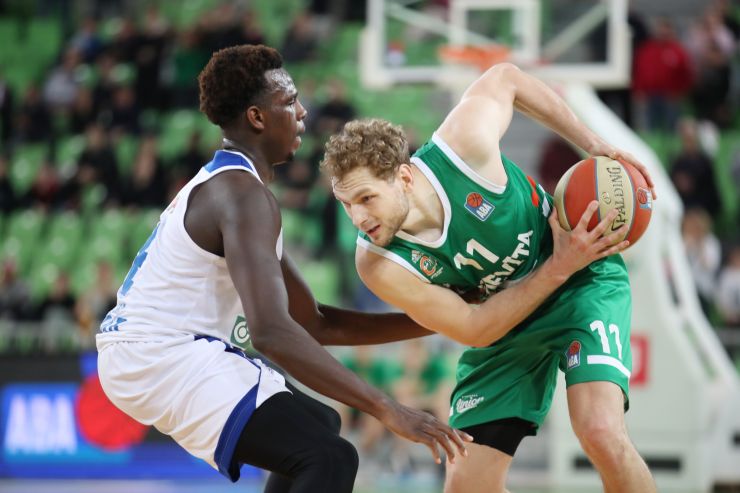 Jaka Blazic (Photo: Cedevita Olimpija/Ales Fevzer)
ABA League Round 19, Saturday, 8.2.2020:
CEDEVITA OLIMPIJA - Zadar 90:82 (22:28, 25:22, 25:15, 18:17)
Game recap: Cedevita Olimpija are celebrating their 12th win of the ABA League season, as they have beaten Zadar at home in Stožice Arena in Ljubljana and therefore got their revenge for the painful defeat that they have suffered in the first half of the regular season in Zadar. This is an extremely important win for the green and orange in their battle for Top four at the end of the regular season, as it will keep them in the Playoffs Zone with 3 rounds remaining in the regular season. On the other side, Zadar will remain at the last place in the standings, as the only team with only 4 wins collected so far in the season.
Key moments: With 3 and a half minutes remaining in the game, Cedevita Olimpija were still up by only 2 points (80:78). However, over the next 2 minutes, the hosts went on an 8:1 run, took an 88:79 lead and decided the game in their favour.
Man of the match: Jaka Blažič shined, as he led Cedevita Olimpija to a very important win over Zadar, with 30 points, 6 rebounds, 3 assists, 1 steal and a valuation of 35. He's our man of the match.
Can't trick the stats: Cedevita Olimpija have outrebounded Zadar 36:27. That was their key to the victory.