Svetozar Popović is the new Borac reinforcement
Wednesday, 12. February 2020 at 13:04
Experienced player will be wearing Borac jersey until the end of the ABA League 2 season.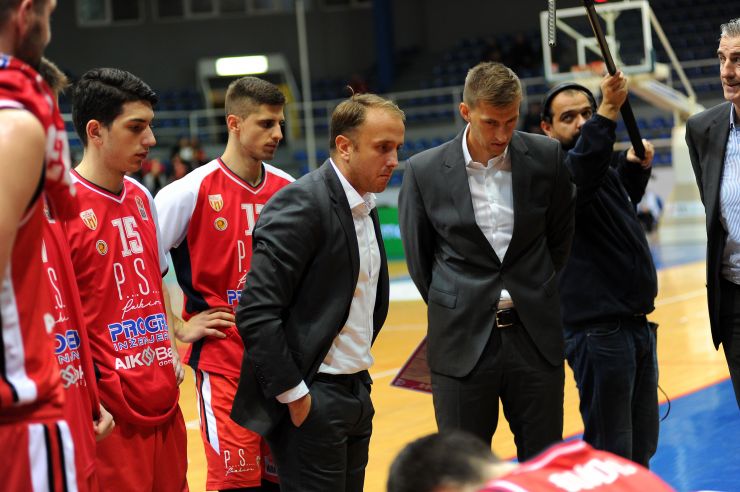 Marko Marinovic (Photo: Siroki/Domagoj Ledic)
Borac squad is stronger for another point guard. Svetozar Popović is the new member of the Čačak squad.
Former member Zlatibor of Čajetina has signed with the red and white of Čačak until the end of the ABA League 2. The experience, as well as good performances in the aforementioned team has recommended him to the squad, led by head coach Marko Marinović.
The fresh energy will be extremely important for the Čačak squad ahead of the remainder of the season, especially in the Playoffs of the ABA League 2, where Borac will be fighting for qualification to the upper stage of the competition, meaning the ABA League.
Borac tactician Marko Marinović is satisfied that his team received a player, that will be halping them to achieve the goals set.
"We have estimated that there are still several players missing, since we are playing in a strenuous rhythm. Especially recently this problem became more evident, since we have played lots of important games, but the challenges don't end there. There are lots of important games still coming up and we needed to refresh our ranks," Marinović told.
The experienced players used to play for Radnički, Vojvodina, Sloga, Vršac, Napredak, Nova Hut Ostrava, Tirana and Voluntari in his career until now.
--------------------
Svetozar Popović novo pojačanje Borca
Iskusni košarkaš nosiće dres Borca do okončanja Druge ABA lige.
Ekipa Borca jača je za još jednog organizatora igre. Svetozar Popović novi je prvotimac čačanskog sastava.
Doskorašnji košarkaš Zlatibora iz Čajetine parafirao je ugovor sa čačanskim crveno-belima do kraja ovogodišnjeg izdanja ABA 2 lige. Iskustvo, kao i dobre partije u pomenutom timu preporučile su ga sastavu koji sa klupe predvodi Marko Marinović. Sveža krv biće preko potrebna Čačanima pred nastavak sezone, naročito u plej – ofu ABA 2 lige, gde će se Borac boriti za plasman u viši rang, odnosno ABA 1 takmičenje.
Stateg Borca Marko Marinović zadovoljan je što je u njegov tim stigao košarkaš koji će pomoći u ostvarivanju zacrtanih ciljeva.
,,Procenili smo da nam fali još igrača, jer od početka sezone igramo u ubitačnom ritmu. Naročito se u poslednje vreme taj problem još više istakao, jer je za nama veliki broj važnih mečeva, a izazovima tu nije kraj. Pred nama je mnogo bitnih utakmica, tako da je timu bilo potrebno osveženje," Rekao je Marinović.
Prekaljeni košarkaš je u svojoj dosadašnjoj karijeri branio boje mnogih timova, kako domaćih, tako i inostranih. Nastupao je za Radnički, Vojvodinu, Slogu, Vršac, Napredak… Pored navedenih timova, igrao je za Novu Hut iz Ostrave, Tiranu, rumunski Voluntari…