Dynamic VIP PAY sign Zoran Paunović and Bojan Tomašević
Wednesday, 11. September 2019 at 18:25
KK Dynamic VIP PAY announced that they have signed contracts with two young basketball players, Bojan Tomašević and Zoran Paunović.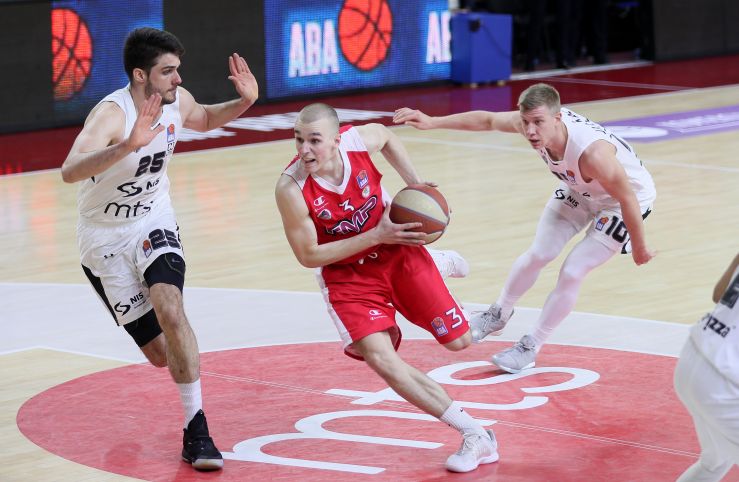 Zoran Paunovic (Photo: FMP)
KK Dynamic VIP PAY announced that they have signed contracts with two young basketball players, Bojan Tomašević and Zoran Paunović.
Bojan Tomašević was born in Nikšić in 2001, where he made his first basketball steps. At the age of 14 he moved to Belgrade to join Crvena zvezda mts with whom he won the national championships in the U16 and U18 categories. Bojan made his first minutes in senior basketball last season in the FMP team for which he played in the 2018/19 Serbian Championship. Over the past years, Tomašević has been a regular member of the Montenegrin youth national teams. With Montenegro, he won a silver medal at the U16 Championships in 2017 and was also placed in the ideal five of the tournament. This year, at the U18 European Championships in Volos, he was the tournament's top scorer with an average of 21 points per game. Bojan is 204 cm tall and plays at the power forward position.
Zoran Paunović was born in Niš in 2000 and at the age of 14 he joined Crvena zvezda mts. With Serbia's U18 selection he won the gold medal at the Eurobasket 2018 in Slovakia. This summer he was part of Serbia's U19 selection at the U19 FIBA World Cup in Crete, where he averaged 7.3 points, 4.6 rebounds and 4.4 assists per game. At the 2018 Junior Euroleague Qualifying Tournament, he was named the top scorer, member of the top five and the most useful player of the tournament. In the same year he was also the first scorer of the Junior League of Serbia. Zoran is 200 cm tall and plays at positions 1 and 2.
---------------
Paunović i Tomašević potpisali za Dinamik
KK Dynamic VIP PAY sa zadovoljstvom može da objavi da su danas ugovore sa našim timom potpisala dva mlada košarkaša, Bojan Tomašević i Zoran Paunović.
Bojan Tomašević je rođen 2001. godine u Nikšiću, gde je i načinio prve košarkaške korake, da bi se sa 14 godina preselio u Beograd, u ekipu Crvene zvezde sa kojom je osvajao nacionalna prvenstva u kadetskoj i juniorskoj kategoriji. Prve minute u seniorskoj košarci Bojan je ostvario prošle sezone u ekipi FMP-a, u Superligi Srbije. Naš novi prvotimac je ostvario zapažene uspehe u reprezentativnoj košarci. Sa Crnom Gorom je 2017. osvojio srebrnu medalju na U16 prvenstvu, a uvršten je i u idealnu petorku turnira. Ove godine, na U18 evropskom prvenstvu u Volosu bio je najbolji strelac turnira sa prosekom od 21 poen po utakmici. Bojan je visok 204 cm i igra na poziciji krilnog centra.
Zoran Paunović rođen je 2000. Godine u Nišu da bi sa 14 godina prešao u ekipu Crvene Zvezde. Sa U18 selekcijom Srbije osvojio je zlato na Eurobasketu u Slovačkoj 2018., dok je ovog leta igrao za U19 selekciju na Svetskom prvenstvu na Kritu, gde je imao učinak od 7,3 poena, 4,6 skokova i 4,4 asistencije po utakmici. Na kvalifikacionom turniru juniorske Evrolige 2018. godine bio je proglašen za najboljeg strelca, člana najbolje petorke i najkorisnijeg igrača turnira. Iste godine je bio i prvi strelac Juniorske lige Srbije. Zoran je visok 200 cm i igra na pozicijama 1 i 2.