Nikola Vujović inks contract with Dynamic VIP PAY
Sunday, 01. September 2019 at 13:39
The boys from Belgrade are getting stronger.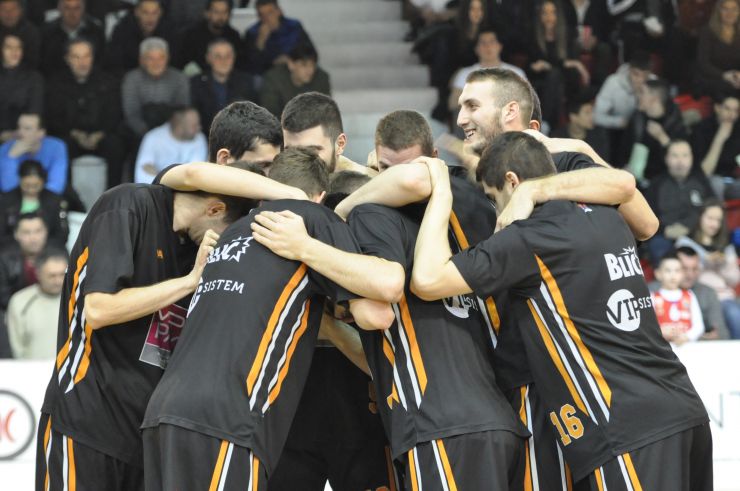 Dynamic VIP PAY team (Photo: Borac/Dusko Radisic)
Dynamic VIP PAY announced that they have signed a contract with 210 cm tall center Nikola Vujović. This 26-year old player spent the previous season in Novi Pazar, where he averaged 9 points and 5.5 rebounds per game.
"Dynamic VIP PAY is a club which is well-known for providing excellent conditions for its players and for having high ambitions in every season. I have recently joined the team and everything is going according to the plan so far. I believe that we can do great things in the upcoming season," said Vujović.
-----------------
Vujović pojačava Dinamik ispod koša
KK Dynamic VIP PAY sa zadovoljstvom može da predstavi najnovije pojačanje pred početak sezone. Nikola Vujović, 210cm visoki centar, prošle sezone nastupao je za ekipu OKK Novi Pazar gde je bio jedan od važnijih igrača u timu, uz prosečnih 9 poena i 5.5 skokova po utakmici. U toku svoje karijere je nastupao za timove u Estoniji, Mađarskoj, Ukrajini...
Povodom potpisivanja ugovora sa Dinamikom, Nikola je izjavio: "Dinamik je poznat kao klub koji ima visoke ambicije u svim takmičenjima, kao i klub sa vrhunskim uslovima za rad. Očekivanja za ovu sezonu su najviša moguća, kako u KLS tako i u ABA2 ligi. Nedavno sam se priključio ekipi koja je u procesu priprema za sledeću sezonu i za sada sve ide u odličnom smeru. Roster je sastavljen od velikog broja mladih i perspektivnih momaka i, uz nekoliko iskusnijih saigrača, činimo jako dobar tim koji ove sezone "puca na visoko". Ovo je sjajna prilika za mene da se dodatno razvijem u igračkom smislu i da pomognem klubu u ostvarivanju ciljeva. Uveren sam da će saradnja biti uspešna za obe strane."
Nikola je bio u ekipi tokom pripremne utakmice protiv ekipe Kluža, koju je Dinamik završio u svoju korist rezultatom 77:72. Sledeću pripremnu utakmicu Dinamik igra na Dorćolu 4. Septembra u 19.30 protiv ekipe Oradee, a ulaz je slobodan za sve posetioce.