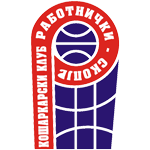 Beginnings
BEGINNINGS: Rabotnički AD Skopje was founded in 1946 under the umbrella of ZSD Rabotnički and is the oldest basketball club in the North Macedonia. Rabotnički was established thanks to Slavko Matovski, who gathered the group of young enthusiast and taught them the secrets of sport. It started competing on 2 Augut 1946, when the North Macedonian basketball championship took place.
Glory Days
GLORY DAYS: Rabotnički used to be a member of the elite tier of the Yugoslav basketball championship for the first time in 1953. Their first episode lasted for only one season, but they have rejoined the league in 1965 and remained its members until the end of existence of former Yugoslavia. The club has played a significant role in the European competitions as well, as they have reached the Semi-finals of the European Cup Winners Cup. In the 2020/21 season, Rabotnički joined the regional competition for the first time, as they have entered the ABA League 2.
Club Information
KK Rabotnički Skopje, Skopje
Trophy Case
North Macedonian National Championship:
1993, 1994, 1995, 1996, 1997, 1998, 1998, 1999, 2001, 2002, 2003, 2004, 2005, 2006, 2009, 2009, 2018.
North Macedonian National Cup:
1993, 1994, 1998, 2003, 2004, 2005, 2006, 2011, 2015, 2019.
North Macedonian Supercup:
2001, 2011.
Club Transfers
Players left Season 2020/21
Players arrived Season 2020/21
Club Statistics
Game Stats
overall
FG2
FG3
FT
Rebs
Blck
Foul
Pts
%
M
A
%
M
A
%
M
A
%
D
O
Ass
St
To
Fv
Ag
Cm
Rv
Val
FG2, FG3 - Field Goals
M - Made
Ag - Against
Rebs - Rebounds
St - Steals
FT - Free Throws
A - Attempted
Foul - Foul
D - Defensive
To - Turnover
Min - Minutes
Blck - Blocks
Cm - Committed
O - Offensive
Val - Index Value
Pts - Points
Fv - in Favoure of
Rv - Received
Ass - Assists
W - Won, L - Lost