Team is currently not a member of ABA Liga j.t.d.. Its data may not be updated.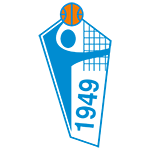 Beginnings
Basketball club Sloga has been established in Kraljevo back in the 1949. It has quickly became a center of gathering of the youth in the town by the Ibar river. It has become the first club of Kraljevo to qualify for the highest division of the Yugoslavian federal club competitions and has given a number of high-quality players, even national team players, such as: Sreten Dragojlović, Ljubodrag Duci Simonović, Dragan Todorić, Dragan Arsić, Vlade Divac, Snežana Bošković, Milijana Vučković. Mirjana Zdravković and others. To this day it has remained one of the few clubs in Europe to have formed two NBA players – Vlade Divac and Miloš Babić.
Glory Days
Sloga used to compete in the Fist Federal Yugoslav Basketall League, at that time the strongest basketball league in Europe. Since 2000 it has been a memer of the First Serbian Basketball League, with a break between 2018 and 2020. In 2021/22 season. Sloga won the second place in the Serbian Basketball League and earned itself a place in the NLB ABA League 2 for the first time in the club's history.
Club Information
Administration
| | |
| --- | --- |
| President: | Vladimir Đoković |
| General Manager: | |
Venue
Nova hala sportova
Dušana Popovića 41/A, 36000 Kraljevo SHOW MAP
Team Roster, Season 2022/23
Club Statistics
Game Stats
overall
FG2
FG3
FT
Rebs
Blck
Foul
Pts
%
M
A
%
M
A
%
M
A
%
D
O
T
Ass
St
To
Fv
Ag
Cm
Rv
Val
1
Sloga-Zlatibor
L
67
41.2
25
47
53.2
3
21
14.3
8
14
57.1
24
11
35
10
11
14
3
3
24
20
59
2
Krka-Sloga
L
67
40.3
20
39
51.3
5
23
21.7
12
17
70.6
20
3
23
14
8
6
1
0
21
19
63
3
Sloga-Spars
W
84
51.6
25
42
59.5
8
22
36.4
10
14
71.4
28
9
37
16
7
16
0
0
21
19
91
4
Sloga-Podgorica
L
66
38.3
14
33
42.4
9
27
33.3
11
20
55
25
8
33
14
8
12
5
3
24
24
65
5
TFT-Sloga
W
92
59.7
30
42
71.4
7
20
35
11
20
55
22
11
33
22
10
17
5
2
16
20
113
6
Sloga-GGD Šenčur
W
95
48.5
24
41
58.5
8
25
32
23
31
74.2
22
11
33
19
5
16
4
2
28
32
100
7
Široki-Sloga
W
86
49.2
21
38
55.3
11
27
40.7
11
19
57.9
18
7
25
21
9
14
4
3
24
23
86
8
Sloga-Vr. Osijek
W
84
46
19
40
47.5
10
23
43.5
16
21
76.2
20
8
28
19
8
14
7
2
21
25
95
9
Gorica-Sloga
L
76
51.7
25
41
61
5
17
29.4
11
16
68.8
17
6
23
18
11
15
0
0
26
21
75
10
Sloga-Borac
W
73
49.2
26
45
57.8
3
14
21.4
12
20
60
21
3
24
12
13
14
2
2
20
21
71
11
Helios-Sloga
L
70
42.9
17
39
43.6
10
24
41.7
6
7
85.7
23
6
29
15
8
15
0
3
18
15
64
12
Sloga-Pelister
L
93
50
30
44
68.2
5
26
19.2
18
24
75
19
14
33
19
6
16
1
2
20
18
91
13
Sutjeska-Sloga
L
70
46
26
38
68.4
3
25
12
9
14
64.3
28
12
40
17
10
20
2
1
17
17
79
Average:
78.7
47.3
23.2
40.7
57.1
6.7
22.6
29.6
12.2
18.2
66.7
22.1
8.4
30.5
16.6
8.8
14.5
2.6
1.8
21.5
21.1
80.9
T:13
Total:
1023
47.3
302
529
57.1
87
294
29.6
158
237
66.7
287
109
396
216
114
189
34
23
280
274
1052
Player Stats
overall
FG2
FG3
FT
Rebs
Blck
Foul
GP
Min
Pts
%
M
A
%
M
A
%
M
A
%
D
O
T
Ass
St
To
Fv
Ag
Cm
Rv
+/-
Val
Bojanić A.
7
45
8
50
2
5
40
1
1
100
1
4
25
8
0
8
3
3
3
0
1
14
4
6
2
Čekić E.
12
215
115
71
49
69
71
0
0
0
17
27
63
27
24
51
12
10
18
12
1
38
27
-19
140
Dunn Jr R.
6
117
32
32.4
9
22
40.9
3
15
20
5
7
71.4
13
2
15
16
1
14
0
1
9
7
-32
20
Jordović M.
1
2
0
0
0
2
0
0
0
0
0
0
0
1
0
1
0
0
0
0
1
0
0
3
-2
Khalil J.
6
152
40
38.9
7
12
58.3
7
24
29.2
5
7
71.4
17
0
17
12
7
13
0
0
12
8
-28
35
Matović S.
11
248
118
48.3
31
61
50.8
11
26
42.3
23
37
62.2
37
13
50
22
15
27
9
4
23
49
6
150
Nikolić N.
5
106
27
36.4
12
24
50
0
9
0
3
5
60
15
2
17
13
5
12
0
0
9
9
-25
27
Paunović Z.
12
339
157
48.9
55
89
61.8
9
42
21.4
20
31
64.5
36
14
50
39
13
31
2
0
22
34
-20
164
Petrović B.
11
94
28
52.6
10
15
66.7
0
4
0
8
8
100
6
6
12
12
1
6
0
1
22
7
-12
22
Savić B.
10
108
35
48.4
13
20
65
2
11
18.2
3
6
50
18
4
22
3
3
4
3
0
14
7
-6
36
Simeunović Đ.
13
364
146
39.8
27
59
45.8
24
69
34.8
20
30
66.7
37
9
46
34
11
25
3
5
34
38
-51
127
Stajčić M.
10
135
42
45.9
13
25
52
4
12
33.3
4
8
50
6
5
11
2
1
9
0
1
19
12
-33
15
Stamenić J.
11
268
97
36.5
7
16
43.8
20
58
34.5
23
28
82.1
10
4
14
4
12
4
1
1
33
13
23
51
Todosijević L.
0
0
0
0
0
0
0
0
0
0
0
0
0
0
0
0
0
0
0
0
0
0
0
0
0
Underwood D.
13
336
163
56.8
64
104
61.5
3
14
21.4
26
39
66.7
53
25
78
44
31
21
4
6
30
59
-15
258
Vudragović L.
3
27
15
40
3
6
50
3
9
33.3
0
0
0
3
1
4
0
1
2
0
1
1
0
-2
7
FG2, FG3 - Field Goals
M - Made
Ag - Against
Rebs - Rebounds
St - Steals
FT - Free Throws
A - Attempted
Foul - Foul
D - Defensive
To - Turnover
Min - Minutes
Blck - Blocks
Cm - Committed
O - Offensive
Val - Index Value
Pts - Points
Fv - in Favoure of
Rv - Received
Ass - Assists
W - Won, L - Lost