KK Borac Banja Luka, Banja Luka
Team is currently not a member of ABA Liga j.t.d.. Its data may not be updated.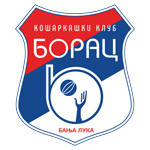 Beginnings
Borac of Banja Luka has been established in 1947 as a member of Borac sporting society and throughout the history it has been changing names and legal status several times. Today it is playing its games in the Borik Sports Hall in Banja Luka, which has a capacity of 2200 seats. It is the biggest basketball brand in Banja Luka.
Glory Days
The club used to be a champion of Bosnia and Herzegovina several times during the times of former Yugoslavia. It has also been a member of the Yugoslavian First Federal Baksetball League. After the independence of Bosnia and Herzegovina, it became the champion of BiH in 1999/2000 and the Cup winner in the same year. It's greatest moments in the modern history perhaps came up in the seasons 2002/03 and 2003/04, when it has participated in the ABA League, winning 11th and 13th places, respectively. In the 2020/21 season, Borac became a member of the ABA League 2 and is thus returning to the big regional basketball scene after several years of absence.
Club Information
Administration
| | |
| --- | --- |
| President: | Milan Đajić |
| General Manager: | Tibor Florjan |
Venue
Team Roster, Season 2018/19
| # | Name | Position | Height | Date of Birth | Nationality |
| --- | --- | --- | --- | --- | --- |
Club Statistics
Game Stats
overall
FG2
FG3
FT
Rebs
Blck
Foul
Pts
%
M
A
%
M
A
%
M
A
%
D
O
T
Ass
St
To
Fv
Ag
Cm
Rv
Val
FG2, FG3 - Field Goals
M - Made
Ag - Against
Rebs - Rebounds
St - Steals
FT - Free Throws
A - Attempted
Foul - Foul
D - Defensive
To - Turnover
Min - Minutes
Blck - Blocks
Cm - Committed
O - Offensive
Val - Index Value
Pts - Points
Fv - in Favoure of
Rv - Received
Ass - Assists
W - Won, L - Lost