Dynamic VIP PAY, Belgrade
Team is currently not a member of ABA Liga j.t.d.. Its data may not be updated.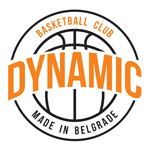 Beginnings
Dynamic is one of the newest Belgrade clubs, founded with intention to develop talent. It is well known as one of the best organized clubs in its country. Also, the team from Dorćol has quickly become also one of the most successful clubs within domestic region in terms of results as well.
Glory Days
In the 2015/16 season Dynamic, guided by charismatic Miroslav Nikolić won the promotion to the top tier domestic competition in Serbia. A season later they have claimed the fifth place in Serbian National Championship and competed at the final tournament of Serbian National Cup. These were so far the best achievements of the Belgrade side.
Club Information
Administration
| | |
| --- | --- |
| President: | Velibor Jojić |
| General Manager: | |
Venue
Ranko Žeravica Hall
Dunavska 62, 11000, Belgrade SHOW MAP
Team Roster, Season 2019/20
Club Statistics
Game Stats
overall
FG2
FG3
FT
Rebs
Blck
Foul
Pts
%
M
A
%
M
A
%
M
A
%
D
O
T
Ass
St
To
Fv
Ag
Cm
Rv
Val
1
Split-Dynamic
L
66
42.6
15
34
44.1
8
20
40
12
17
70.6
16
7
23
20
6
17
1
2
22
17
56
2
Dynamic-Helios
W
74
49.2
25
43
58.1
5
18
27.8
9
15
60
24
11
35
17
3
12
1
8
22
19
70
3
Široki-Dynamic
L
79
46.9
21
39
53.8
9
25
36
10
14
71.4
24
7
31
19
12
17
2
2
23
21
84
4
Rogaška-Dynamic
L
67
41.5
16
32
50
6
21
28.6
17
30
56.7
10
10
20
17
8
19
2
3
22
26
52
5
Dynamic-Novi Pazar
W
87
53.6
20
34
58.8
10
22
45.5
17
26
65.4
29
10
39
27
8
25
3
6
20
19
97
6
Lovćen-Dynamic
L
66
45.5
15
32
46.9
10
23
43.5
6
11
54.5
23
3
26
15
5
17
1
0
21
18
58
7
Dynamic-Sloboda Tuzla
W
87
47.6
22
36
61.1
8
27
29.6
19
26
73.1
15
4
19
18
13
12
0
5
21
28
87
8
Spars-Dynamic
W
81
47.6
19
30
63.3
11
33
33.3
10
15
66.7
26
7
33
18
11
16
1
1
19
15
85
9
Dynamic-MZT Skopje
L
82
49.2
25
41
61
6
22
27.3
14
22
63.6
22
11
33
24
5
13
2
2
15
20
96
10
Borac-Dynamic
L
80
56.9
23
30
76.7
10
28
35.7
4
9
44.4
29
7
36
16
4
23
2
1
19
21
86
11
Dynamic-Sutjeska
W
100
48.4
15
35
42.9
15
27
55.6
25
35
71.4
21
10
31
27
5
13
3
6
27
29
107
12
Dynamic-Split
W
86
50.7
26
44
59.1
10
27
37
4
7
57.1
24
13
37
25
9
16
3
7
18
15
96
13
Helios-Dynamic
L
61
36.4
18
48
37.5
6
18
33.3
7
12
58.3
27
18
45
15
4
15
6
6
17
18
64
14
Dynamic-Široki
L
80
44.8
20
39
51.3
10
28
35.7
10
14
71.4
22
12
34
27
3
12
5
4
23
20
89
15
Dynamic-Rogaška
L
60
36.5
19
41
46.3
4
22
18.2
10
14
71.4
19
9
28
15
9
11
2
4
18
16
53
16
Novi Pazar-Dynamic
W
77
41.9
19
36
52.8
7
26
26.9
18
24
75
27
13
40
11
7
11
0
1
26
23
78
17
Dynamic-Lovćen
L
71
39.7
18
35
51.4
7
28
25
14
16
87.5
21
11
32
14
4
16
0
2
18
21
66
18
Sloboda Tuzla-Dynamic
L
67
38.6
21
40
52.5
6
30
20
7
13
53.8
23
13
36
15
7
16
1
6
24
20
51
19
Dynamic-Spars
L
72
38.2
18
38
47.4
8
30
26.7
12
14
85.7
22
10
32
12
4
11
3
3
19
16
62
20
MZT Skopje-Dynamic
W
84
51.7
21
38
55.3
10
22
45.5
12
18
66.7
23
11
34
14
2
18
0
2
32
22
69
21
Dynamic-Borac
L
64
35.9
14
40
35
9
24
37.5
9
11
81.8
24
11
35
16
2
17
5
9
23
20
50
22
Sutjeska-Dynamic
L
69
45.1
17
29
58.6
6
22
27.3
17
23
73.9
23
6
29
13
8
20
0
5
24
22
58
Average:
75.5
44.8
19.4
37
52.5
8.2
24.7
33.3
12
17.5
68.1
22.5
9.7
32.2
18
6.3
15.8
2
3.9
21.5
20.3
73.4
T:22
Total:
1660
44.8
427
814
52.5
181
543
33.3
263
386
68.1
494
214
708
395
139
347
43
85
473
446
1614
Player Stats
overall
FG2
FG3
FT
Rebs
Blck
Foul
GP
Min
Pts
%
M
A
%
M
A
%
M
A
%
D
O
T
Ass
St
To
Fv
Ag
Cm
Rv
+/-
Val
Akay M.
13
238
66
34.3
21
49
42.9
3
21
14.3
15
29
51.7
27
6
33
54
10
44
2
7
37
38
-46
55
Beslać D.
20
448
187
44.6
43
83
51.8
23
65
35.4
32
43
74.4
43
25
68
32
21
26
13
13
58
43
46
174
Glas G.
18
341
171
44.3
29
52
55.8
33
88
37.5
14
21
66.7
38
8
46
27
12
36
0
4
59
20
-63
92
Glišić M.
16
288
92
50
33
62
53.2
6
16
37.5
8
15
53.3
39
36
75
10
3
11
6
7
29
28
-51
121
Matijašević J.
2
21
1
0
0
3
0
0
2
0
1
2
50
3
2
5
1
0
2
1
1
6
3
-13
-4
Ostojić D.
22
456
174
54.1
66
114
57.9
6
19
31.6
24
41
58.5
68
34
102
31
20
39
5
12
49
54
-75
208
Pašajlić M.
20
591
304
45.3
81
147
55.1
25
87
28.7
67
81
82.7
61
9
70
111
15
54
3
21
50
93
-1
329
Paunović Z.
22
390
111
40.7
39
87
44.8
5
21
23.8
18
23
78.3
58
20
78
32
16
32
5
3
30
29
-3
137
Šalić Đ.
3
71
56
54.1
19
29
65.5
1
8
12.5
15
19
78.9
7
7
14
5
3
6
1
0
7
14
6
59
Smiljanić I.
22
571
194
44.2
25
48
52.1
43
106
40.6
15
32
46.9
51
33
84
20
14
23
0
5
31
29
-55
179
Sokolović A.
4
90
21
35
7
14
50
0
6
0
7
10
70
15
2
17
13
7
8
1
1
14
12
-28
32
Stojičić D.
0
0
0
0
0
0
0
0
0
0
0
0
0
0
0
0
0
0
0
0
0
0
0
0
0
Sylla I.
1
10
0
0
0
1
0
0
0
0
0
0
0
1
0
1
0
0
0
0
0
1
0
-2
-1
Tomašević B.
22
317
128
48.3
23
44
52.3
20
45
44.4
22
28
78.6
22
11
33
8
5
15
1
4
37
28
-92
95
Vujović N.
15
189
83
55.8
25
44
56.8
4
8
50
21
34
61.8
38
18
56
10
7
19
4
5
33
30
13
97
Vulikić V.
15
281
69
31.4
15
35
42.9
12
51
23.5
3
6
50
22
3
25
41
5
32
1
2
32
24
-40
37
Đorđević Đ.
3
5
3
50
1
2
50
0
0
0
1
2
50
1
0
1
0
1
0
0
0
0
1
3
4
FG2, FG3 - Field Goals
M - Made
Ag - Against
Rebs - Rebounds
St - Steals
FT - Free Throws
A - Attempted
Foul - Foul
D - Defensive
To - Turnover
Min - Minutes
Blck - Blocks
Cm - Committed
O - Offensive
Val - Index Value
Pts - Points
Fv - in Favoure of
Rv - Received
Ass - Assists
W - Won, L - Lost