Sutjeska Elektroprivreda down Sloga and clinch the last ticket for the Playoffs
Sunday, 12. March 2023 at 17:59
Sutjeska Elektroprivreda have clinched the last remaining ticket for the 2023 NLB ABA League 2 Playoffs after defeating Sloga in the final game of the regular season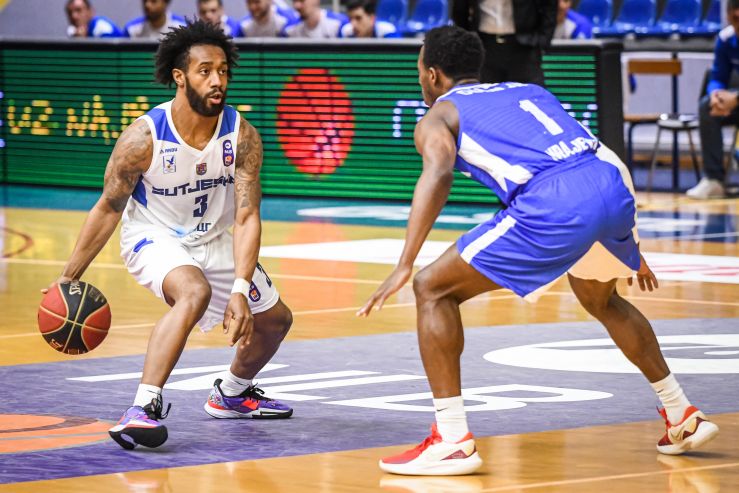 (Photo: ABA League j.t.d./Dragana Stjepanovic)
NLB ABA League 2 Round 13, Sunday, 12 March 2023:
SUTJESKA ELEKTROPRIVREDA - Sloga 77:70 (12:19, 18:17, 24:12, 23:22)
Sutjeska Elektroprivreda have clinched the last remaining ticket for the 2023 NLB ABA League 2 Playoffs!
The final match of the 2022/23 regular season could not have been more interesting as Sutjeska Elektroprivreda and Sloga were facing each other in a direct battle for the Playoffs.
Sloga had a better start as they were up by 7 at the end of the 1st quarter – 19:12, while they had a 10-point lead late in the first half – 36:26. But, then Sutjeska Elektroprivreda started their major comeback that eventually resulted in taking this precious win.
Sutjeska Elektroprivreda have firstly reduced the gap to 6 points until the halftime – 36:30, while then they won the 3rd quarter by 24:12 to take over the lead the take over the control over the match – 54:48.
Sutjeska Elektroprivreda definitely sealed their win today in the first half of the 4th quarter when they made the key 9:0 run to increase their lead from 60:55 to 69:55.
Michael Weathers led the Nikšić troops toward this big win with 21 points and 6 rebounds, while we should also mention the performance of Mašan Vrbica who finished the match with 13 points and 9 assists. In Sloga team, Elvis Čekić had 17 points and 6 rebounds.