Vojinović: "The crown of the season begins tomorrow!"
Tuesday, 12. April 2022 at 12:38
MZT Skopje Aerodrom will be hosting the best 8 teams of the NLB ABA League 2 at the Playoffs Tournament, that will take place in the Jane Sandanski Arena in Skopje between 13 and 17 April 2022.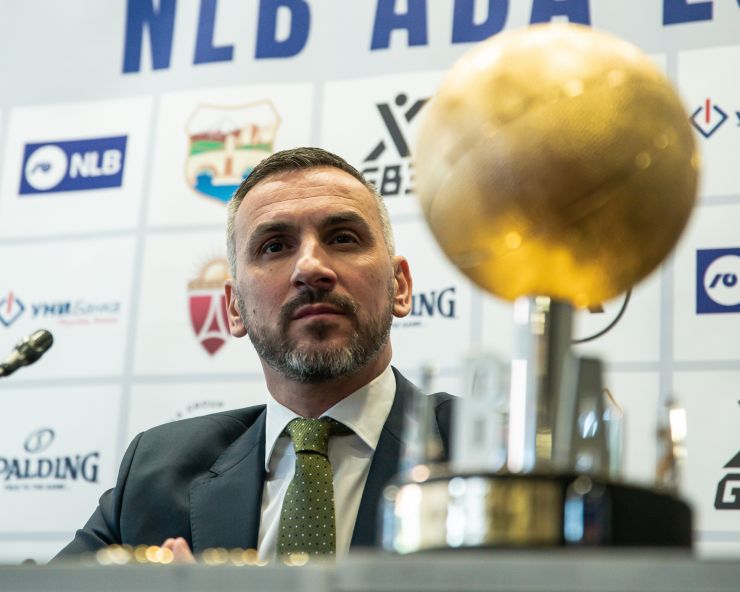 Milija Vojinovic (Photo: ABA League j.t.d./Dragana Stjepanovic)
At the press conference ahead of the tournament a spectacle has been announced, and the trophy and medals for the champions have been unveiled. The champions of the NLB ABA League 2 will secure themselves a spot in the AdmiralBet ABA League for the 2022/23 season, while the defeated finalists will be facing themselves for a spot amongst the elite regional club competition against the 13th placed team of the AdmiralBet ABA League.
Milija Vojinović, the Sports Director of the ABA League j.t.d. has been satisfied with the fact, that the final tournament will be taking place in Skopje: "We haven't made a mistake by awarding Skopje the role of a host of the NLB ABA League 2 Playxoffs. They are one of the most regular participants both in AdmiralBet ABA League and NLB ABA League 2. MZT Skopje Aerodrom have also taken the top position in the standings after the Regular Season. The crown of the season begins tomorrow and we will get answers to the questions on who would qualify for the AdmiralBet ABA League for the next season and who would play in the Qualifiers. 98 games have been played in the Regular Season and now everything goes down to these seven games."
Filip Đorđevski, the General Manager of MZT Skopje Aaerodrom expects the Playoffs to represent a true peak of the season: "I wish to invite the fans to join us and make it a true festival of basketball. With a bit of luck, I hope that MZT Skopje Aerodrom becomes the winner and that we will all be celebrating a return to the elite competition under the umbrella of the ABA League j.t.d. organization."
The President of the Aerodrom Municipality, Timčo Mucunski added: "It is a great pleasure to be the hosts of the NLB ABA League 2 tournament and it is a great opportunity for us to present both MZT Skopje Aerodrom and the Aerodrom Municipality as good hosts. This tournament has a humanitarian character, as the funds gained with the sale of tickets will be given to the foundation Marko Božinovski, that will reallocate them to those that need it the most. I expect a great sporting atmosphere and packed stands. I wish to thank the Skopje city and ABA League j.t.d., that has awarded the organization to us. As a person, that has grown up watching MZT Skopje Aerodrom, I sincerely hope for them to reach the Final and to qualify for the AdmiralBet ABA League."