Sutjeska part ways with Velimir Gašić and appoint Darko Vujačić as new head coach
Tuesday, 22. March 2022 at 10:20
Sutjeska have made a coach change ahead of the final NLB ABA League 2 tournament in he 2021/22 season.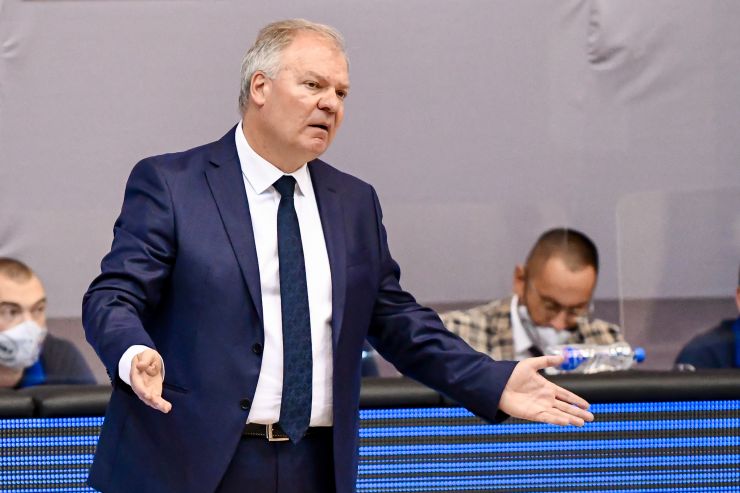 Velimir Gasic (Photo: ABA League 2/Dragana Stjepanovic)
Sutjeska have made a coach change ahead of the final NLB ABA League 2 tournament in the 2021/22 season.
Sutjeska announced that they have parted ways with Velimir Gašić due to some poor results in the previous period and that they appointed Darko Vujačić as new head coach.
Vujačić, who was born in Nikšić, is a former player of Sutejska with whom he won the 2013 Montenegro National Cup. After finishing his player's career, Vujačić decided to try himself as a basketball coach. He started his coaching career in Albanian team Vllaznia with whom he won the Albanian championship in 2015. After that he worked 3 years as head coach of Ulcinj from 2016 to 2019.
Vujačić was also the head coach of U20 Albania national team, U18 Montenegro national team, while he also worked in B selection of Montenegro senior national team.
---------------------
Rastanak sa Gašićem, ekipu vodi Darko Vujačić
Rukovodstvo košarkaškog kluba Sutjeska odlučilo je da raskine saradnju sa Velimirom Gašićem.
Do rastanka je došlo nakon loših rezultata, te neočekivanih poraza u domaćoj ligi.
Sutjeska se gospodinu Gašiću zahvaljuje na provedenom periodu u klubu, posvećenom radu i predanosti.
Ekipu će do kraja sezone voditi Darko Vujačić, sa postojećim stručnim štabom, koji čine Miloš Minić, Boško Bošković i Milivoje Đurđić.
Darko Vujačić je bivši igrač Sutjeske, U karijeri je igrao za Ibon, Lovćen, Mornar, Igokeu, Muharak iz Bahreina, Peć, Leotar, mađarski Marso, rumunski Pitešti i Ulcinj.
Član je generacije Sutjeske koja je 2013. godine osvojila Kup Crne Gore.
Vujačić se po završetku igračke posvetio trenerskoj karijeri. Vodio je Ulcinj i Vlazniju sa kojom je osvojio titulu u Albaniji 2015. godine. Bio je selektor U20 reprezentacije Albanije na Evropskom prvenstvu, B reprezentacije Crne Gore i juniorske reprezentacije Crne Gore.