Split grab a huge win as they beat Borac on the road
Monday, 21. March 2022 at 15:59
Split have defeated Borac for the 1st time ever in AdmiralBet ABA League!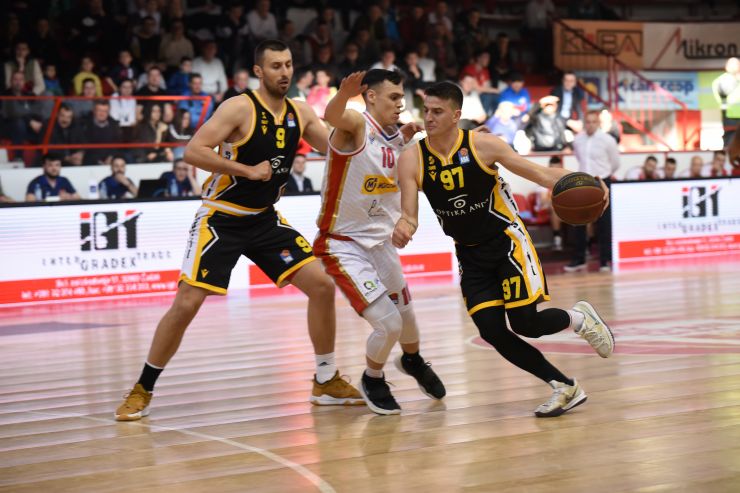 (Photo: Borac/Dusko Radisic)
AdmiralBet ABA League Round 23, Monday, 21 March 2022:
Borac - SPLIT 59:64 (18:18, 15:13, 12:19, 14:14)
Game recap: Split have defeated Borac for the 1st time ever in AdmiralBet ABA League!
This was also the very first road win for the famous Yellow troops in the ongoing season and it came in such an important moment as Split have now moved away from the bottom of the table.
Split currently have the overall score of 5-17 and they surpassed Krka who are now all alone at the last place with the overall score of 4-17.
On the other side, despite losing this game, Borac are still safely positioned on the 2021/22 standings as with the overall score of 8-13 they have four wins more than the last placed team.
Key moments: The 10-minute period between the middle of the 3rd quarter and the middle of the 4th quarter was perhaps the key period in this game as during that time Borac scored just 3 points… All from the free throw line!
At the same time, Split used that period to take over the lead, while 3 minutes before the end of the match Nejc Barič scored a big 3-pointer for the visitors to give Split a 6-point lead – 59:53. That shot was very important as it boosted the team confidence in key moments. In the rest of the match, Split have managed to defend their lead and grab a valuable win.
Man of the match: Split big man Karlo Žganec made a double-double performance in today's match as he collected 13 points and 13 rebounds. His overall index rating was 27.
Can't trick the stats: This was one of the worst offensive performances of Borac in this season. The Čačak crew scored less than 60 points at home court, while we have already mentioned that 10-minute period in the 2nd half in which the hosts made just 3 points.