Vojinović: "I am convinced that we will enjoy fantastic basketball"
Saturday, 19. March 2022 at 13:04
In the HKK Široki headquarters, the press conference ahead of the fifth Regular Season Tournament of the NLB ABA League 2, that will take place in Pecara Sports Hall in Široki Brijeg took place.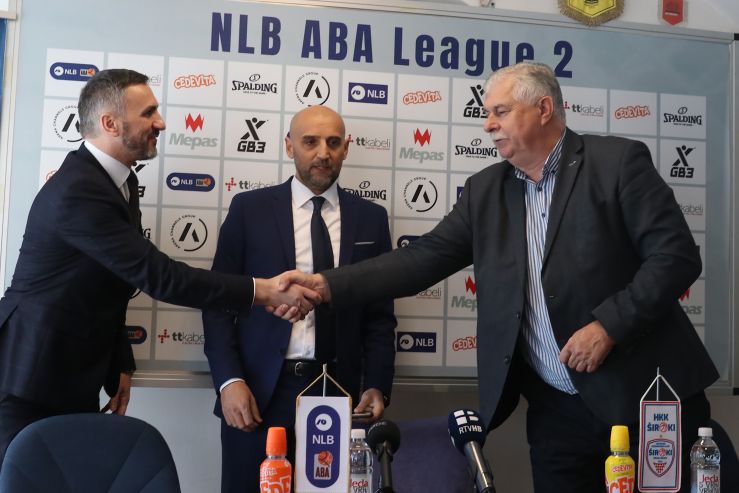 (Photo: HKK Å iroki)
Ahead of the tournament, ABA League j.t.d. Sports Director Milija Vojinović, Široki Brijeg Mayor Miro Kraljević and HKK Široki President Igor Jeličić spoke to the media.
"I always feel great and welcome in Široki Brijeg and West Herzegovina. When I drove to the hall I saw big billboards saying "ABA League j.t.d. is coming back to Široki Brijeg" and that gave me great pleasure, since HKK Široki used to be a member of the regional competition since its very beginnings and used to have significant results there. The fact that we gave the club the wild card free of charge and that we have awarded them the tournament organization says a lot about how important HKK Široki is for the ABA League j.t.d. The first day of the tournament will be marked by the World Down Syndrome Day and that's what we will honour in cooperation with the NLB Group during a joint action called "More Alike Than Different". I wish to thank the Široki Brijeg Municipality, West Herzegovina County and of course HKK Široki on great hospitality and I am convinced that all of us would enjoy in fantastic basketball," told ABA League j.t.d. Sports Director Milija Vojinović.
Široki Brijeg Mayor, Miro Kraljević added: "I am happy that our city of Široki Brijeg is a host of such a great sporting event. All of these trophies that you can see here demonstrated how many trophies and successes our HKK Široki has. We have always been supporting the club and we will continue to do so. Sometimes this might be unrealistic, since tough times are here, and given that Široki Brijeg is a small town, but basketball here has a special status and I believe that all of us would enjoy high-level basketball and sporting atmosphere."
HKK Široki President Igor Jeličić is expecting a great show by the participants: "Everything is ready for a basketball spectacle. We have been preparing intensively for all of the requirements that we needed to fulfil. I believe that all of the squads would be ready. Due to great interest of the public, e will start selling tickets on Monday. The prices are the same for adults and free of charge for children. I wish to thank sincerely the Široki Brijeg Municipality, the West Herzegovina County and all of our sponsors, that have been supporting us for many years in order to help us remain on such a level. I am calling all of the basketball fans from this region to come to Pecara and give their contribution to our joint success."