Petrović becomes new MZT Skopje Aerodrom head coach
Sunday, 27. February 2022 at 15:43
One of the most famous former MZT Skopje Aerodrom head coaches of the first decade of 21st century, Aleksandar Petrović, is coming back to Jane Sandanski Arena and is the new head coach of the blue and white squad.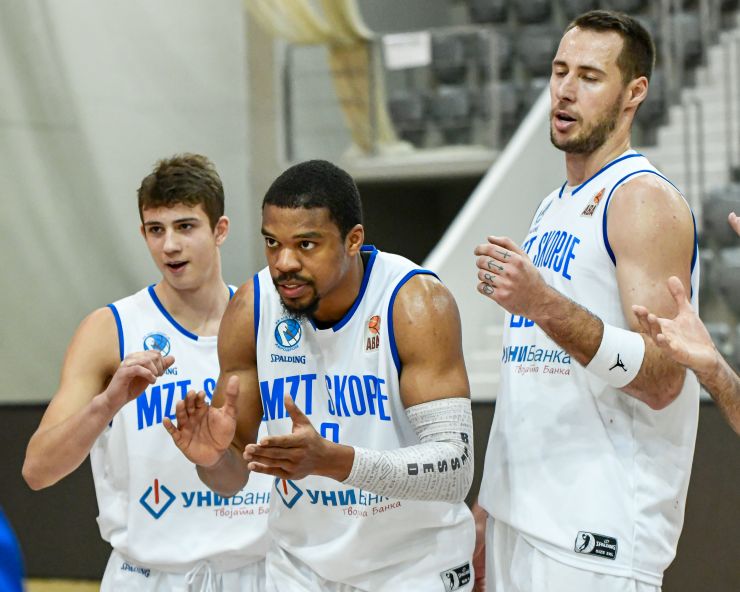 MZT Skopje Aerodrom team (Photo: ABA League 2/Dragana Stjepanovic)
Aleksandar Petrović will replace Darko Radulović, with which the cooperation has been terminated after the unsuccessful North Macedonian National Cup campaign for the Skopje side from the past week. This will be the third episode for Petrović at the helm of MZT Skopje Aerodrom, since he used to coach their team between 2001 and 2007 and between 2009 and 2011 before.
He has also been in charge of Pelister, Karpoš Sokoli and Kumanovo and he is coming to Jane Sandanski from Akademija FMP, where he used to spend the past two seasons.
-------------------
Petrović e nov trener na MZT Skopje Aerodrom
Eden od najprepoznatlivite treneri povrzani so MZT Skopje Aerodrom vo prvata decenija od 21. vek, Aleksandar Petrović, se vraća na klupata na ovoj tim, otkako od deneska i oficijalno e nov predvodnik na plavo-belata četa.
Toj doađa na mestoto na Darko Radulović, so kogo beše prekinata sorabotkata po neuspehot vo finaleto od Kupot na Makedonija pred edna nedela. Za Petrović ova ќe bide treto prezemanje na MZT Skopje, so ogled što prethodno sedeše na klupata na aktuelniot šampion vo periodot pomeѓu 2001 i 2007 odnosno 2009 i 2011 godina. Ima raboteno ušte i vo Pelister, Karpoš Sokoli i Kumanovo, a vo "Jane Sandanski" se vraća od mestoto šef na stručniot štab na Akademija FMP, kade što beše vo izminative dve sezoni.