Domen Lorbek returns to Helios Suns
Tuesday, 23. February 2021 at 18:53
After 11 years, Domen Lorbek will once again wear the orange and purple jersey of Helios Suns!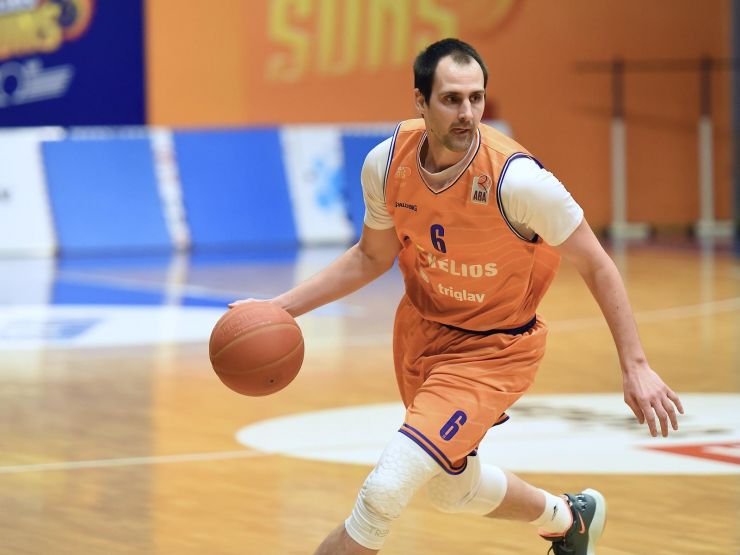 Domen Lorbek (Photo: Helios Suns/Gašper Papež)
After 11 years, Domen Lorbek will once again wear the orange and purple jersey of Helios Suns!
Domen Lorbek is a well-known name among basketball fans in our region. He started his pro career in Triglav, while he also played for Petrol Olimpija, Helios Suns, Krka and Igokea. Lorbek has also made a significant career abroad as he used to play for Benetton Treviso, Cantu, Estudiantes etc.
Domen Lorbek: "I am happy to be back in Domžale. I believe that I can help the team reach its goals. I just feel sorry that we don't have a chance to play in front of Domžale fans due to the current situation."
Dejan Jakara, Helios Suns head coach: "We were looking for a basketball player who could add something to our offense. After reviewing all the possibilities in the last month, we did not find someone who could quickly fit into our system. Therefore, we decided to take a little risk because Domen hasn't been in the game for a while, but he is an experienced and above all intelligent basketball player who will be able to quickly get used to our system of play. "
Helios Suns also announced that they have parted ways with Kaleb Joseph. The club thanked Joseph for everything he has done for the team in the past couple of months and wished him all the best in the future.
------------
Spremembe v igralskem kadru, prihaja Domen Lorbek
Pred nadaljevanjem sezone je v domžalskih vrstah prišlo do dveh igralskih sprememb. Po enajstih letih bo dres Helios Sunov znova oblekel izkušeni Domen Lorbek, od ekipe pa se je malce nenadejano poslovil ameriški košarkar Kaleb Joseph.
Domna Lorbka (1985, 199 cm) ni potrebno posebej predstavljati. Za nekdanjim slovenskim reprezentantom je bogata košarkarska kariera, ki ga je vodila od Španije (Estudiantes, Cajasol Sevilla, Legun Aro, Real Betis) do Italije (Benetton Treviso, Avellino, Cantu) in Turčije (Royal Gaziantep), v Sloveniji pa je nosil dres Triglava, Olimpije, Krke in v dveh obdobjih tudi domžalskega Heliosa. Trenerju Dejanu Jakari bo na voljo že na petkovem obračunu Sunsov proti Podčetrtku.
Domen Lorbek, Helios Suns: "Vesel sem, da se v Domžalah vračam v tekmovalni pogon. Verjamem, da lahko po najboljših močeh pomagam ekipi do zastavljenih ciljev. S fanti smo se hitro ujeli, žal mi je le, da zaradi trenutne situacije nimamo priložnosti igrati pred domžalskimi navijači."
Dejan Jakara, trener Helios Sunsov: "Iskali smo košarkarja, ki bi lahko nekaj dodal našemu napadu. Po pregledu vseh možnosti v zadnjem mesecu dni, kar nismo našli nekoga, ki bi se lahko igralsko in karakterno hitro vklopil v naš sistem. Ko se je pojavila možnost ekipi dodati Domna Lorbka, nismo veliko oklevali. Sprejemamo malo rizika, ker nekaj časa ni bil v igralnem pogonu, a gre za izkušenega in predvsem inteligentnega košarkarja, ki se bo lahko hitro privadil na naš sistem igre. Ob tem se zahvaljujem tudi Kalebu Josephu za požrtvovalno delo v zadnjih mesecih. Ker je dobil ponudbo, ki se jo težko zavrne, hkrati pa smo ekipi ravno priključili Domna, smo se dogovorili, da mu v njegovi želji pri selitvi v tujino ne bomo povzročali težav."
Kaleb Joseph (1996, 190 cm), ki je pred dobrim tednom dni praznoval 26. rojstni dan, se je Helios Sunsom priključil pred letošnjim prvim ABA2 mehurčkom in se prav v regionalnem tekmovanju izkazal z nekaj odličnimi predstavami. V teh dneh je nenadejano prejel mikavno ponudbo iz tujine, točneje iz Paname, zato je prišlo do sporazumne prekinitve sodelovanja. Na tem mestu se mu zahvaljujemo za pomoč v zadnjih mesecih in mu želimo čim več uspehov na nadaljnji košarkarski poti.