Bryon Allen is new Studentski centar player
Thursday, 18. February 2021 at 11:59
Bryon Allen, new reinforcement of Studentski centar Podgorica, has arrived to the Montenegrin capital.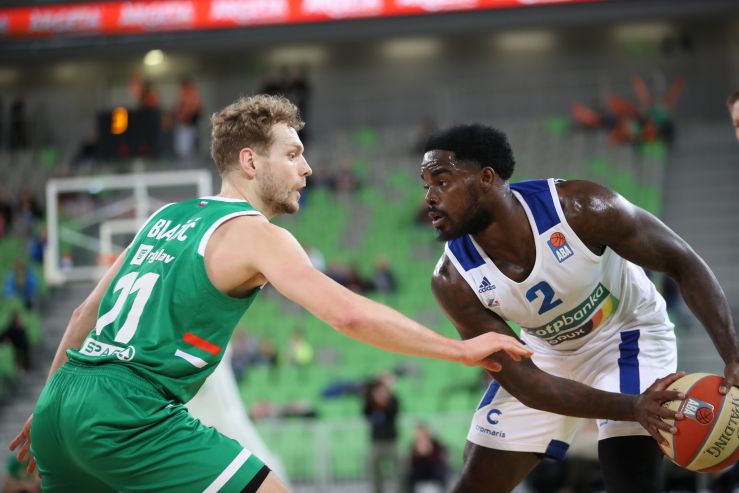 Bryon Allen (Photo: Cedevita Olimpija/Ales Fevzer)
In the second half of the ABA League 2 season, former Zadar player Bryon Allen will be playing for Studentski centar of Podgorica, to which he is coming from the German side Basketball Loewen Braunschweig.
Upon the arrival to Podgorica he stated: "I am very happy to have come to the club, that still hasn't lost a single game. I have already been here with the Zadar team and therefore I do not expect adaptation to be a problem. I believe that with my experience I would be able to help the team to accomplish the goals set upon it. I eagerly wait to meet my teammates, coach and employees and to start practicing as soon as possible. There are two tournaments coming up in the ABA League 2 and I hope to help the team to achieve as many victories as possible ahead of the most important games of the season."
--------------------
Brajon Alen novi igrač Studentskog centra
Brajon Alen, najnovije pojačanje Studentskog centra, danas u toku dana je stigao u Podgoricu.
U drugoj polovini sezone u Drugoj ABA ligi, bivši igrač Zadra Brajon Alen će nastupati za Studentski centar iz Podgorice, u koji stiže iz redova njemačke ekipe Basketbal Loven Braunšvajg.
Pri dolasku u Podgoricu je izjavio: "Veoma sam srećan što sam došao u klub koji još uvijek nije izgubio nijedan meč. U gradu sam već bio sa ekipom Zadra i očekujem da adaptacija ne bude problem. Vjerujem da ću iskustvom pomoći ekipi da ispuni željene ciljeve. Jedva čekam da upoznam saigrače, trenera i zaposlene i da što prije počnem sa treninzima. Čekaju nas dva mjehura, nadam se da mogu pomoći da dođemo do što više pobjeda pred najvažnije mečeve u sezoni."