Brandon McCoy new Zlatibor member
Wednesday, 03. February 2021 at 13:31
American center Brandon McCoy, who used to be one of the biggest prospects in his generation, is the new member of BC Zlatibor, who used to be one of the biggest prospects in his generation.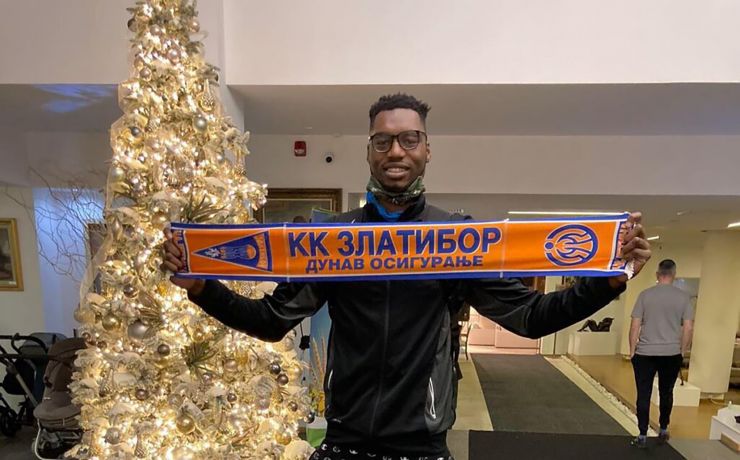 (Photo: Zlatibor)
While playing high school basketball in San Diego, Brandon McCoy (213cm, 1998) earned a recognition to participate in McDonalds All American game and Jordan Brand Classic in 2017. Then he used to be a member of USA U19 national team that won bronze medal on World Cup, where he played alongside current NBA players Cam Reddish, Payton Pritchard, Carsen Edwards. McCoy attended UNLV and in only season in NCAA averaged 16,9 points and 10,3 rebounds. After not being selected on NBA draft 2018, he spent two seasons with Wisconsin Herd.
"I feel like my story is unfinished, I had bumps on the road. Everyone's story is different, and I just want to start playing overseas. My main goal is to be where I want to be, and I am not done until I finish. I came here open hearted, open eared and want to learn as much as I can in this organization and this team to get better every single day. And hopefully bring championship to this city,"says McCoy who wil strengthen big men lineup of 5/2 team in ABA league 2 with Bojan Stanojević, Lazar Joksimović, Nikola Pavlović, Aleksa Čabrilo i mladi Bogdan Vesović.
Chicago native is third foreign player in team from Čajetina, after American-Cameroonian guard Robert Songolo and Russian guard Peter Lobarev.
--------------------
Brendon Mekoj novi član Zlatibora
Novi član košarkaškog kluba Zlatibor je Amerikanac Brendon Mekoj, nekada jedan od najperspektivijih igrača u svom godištu. Dvadesetdvogodišnji centar će u Čajetini prvi put zaigrati van Sjedinjenih američkih država.
Mekoj je dobrim igrama u srednjoj školi zaradio izbor na MekDonalds Ol Amerikan utakmicu i Džordan brend klasik na kom se okupljaju najveći talenti u generaciji. Potvrdu kvaliteta dobio je pozivom za juniorsku reprezentaciju SAD sa kojom je osvojio bronzu na prvenstvu sveta 2017. igrajući sa sadašnjim NBA igračima kao što su Кem Rediš, Pejton Pričard i Кarsen Edvards. Na koledžu je nastupao za prestižni UNLV i tokom jedne sezone prosečno beležio 16,9 poena i 10,3 skoka. To ipak nije bilo dovoljno da bude izabran na NBA draftu 2018. pa je nastupao u Razvojnoj ligi za Viskonsin Herd, filijalu Milvoki Baksa.
"Moja priča nije završena, imao sam prepreka na putu. Svačija priča je drugačija. Želeo sam da krenem iz Evrope. Cilj mi je da budem tamo gde želim i neću stati dok to ne ispunim. Došao sam otvorenog srca da što više naučim od ovog tima i da budem bolji i nadam se, donesem trofej za ovaj grad. Bravo za te momke, pratio sam ih kako naporno rade, izdigli su se i nastavili da napreduju. Nadam se da će imati sjajne karijere i da će ostati zdravi. To mi pokazuje koliko sam blizu svog sna, a to je da igram u NBA ligi,"
Nakon što se nije ostvario dolazak Đorđa Кaplanovića, Amerikanac visok 213 centimetara koji šutira i za tri poena će pojačati konkurenciju u centarskoj liniji koju sada čine Bojan Stanojević, Lazar Joksimović, Nikola Pavlović, Aleksa Čabrilo i mladi Bogdan Vesović.
"Moja najveća snaga je visina, mogu da pokrijem dosta prostora u reketu, da budem u kontaktu, da završavam iznad obruča, skačem, i donesem defanzivni mentalitet u ovaj tim kao centar odbrane. Osećam da su van terena ovo zaista dobri momci. Кada sam stigao, bilo je kasno uveče, ali nekoliko saigrača me čekalo da se zagrlimo i slikamo što je učinilo da se osećam veoma prijatno. Na terenu, ovi igrači su veoma talentovani, dobro šutiraju i pametni su košarkaši i ponavljam, želim što više da naučim od njih."
Mekoj je drugi tamonoputi igrač u istoriji Zlatibora nakon što je u kratkom periodu 2017. godine član kluba bio Amerikanac sa kamerunskim državljanstvom Robert Songolo. Pred ekipom Strajina Nedovića su veliki izazovi jer su pri vrhu i u ABA 2 ligi gde posle sedam kola imaju pet pobeda.