Vojinović: "Teams are delighted with conditions in Zlatibor"
Tuesday, 10. November 2020 at 16:01
Between 9 and 18 November, the first ABA League 2 Regular Season Tournament is taking place in Zlatibor.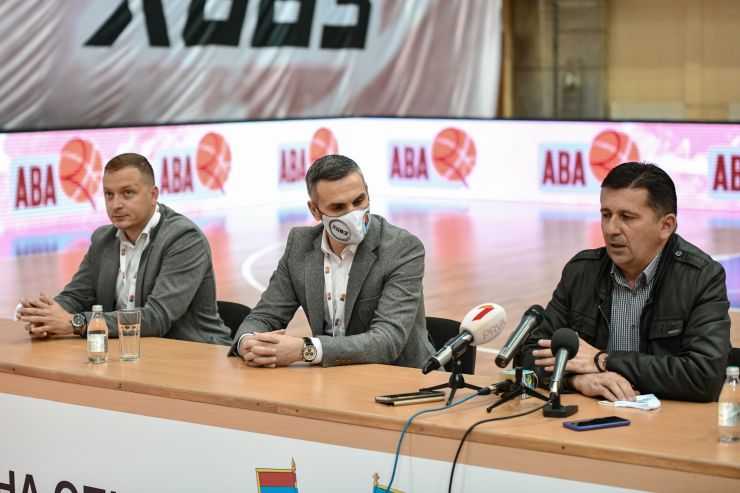 (Photo: ABA League)
At the press conference, which took place at the beginning of the tournament, ABA League Sports Director Milija Vojinović, President of the Assembly of Čajetina Municipality Arsen Đurić and Director of the Tourist-recreative complex of Zlatibor Nikola Novaković have spoken about the event, that is seen for the first time in the ABA League 2 history, due to the specific Covid-19 situation.
Milija Vojinović, ABA League Sports Director:
"We have switched from the league format to the tournament format of the competition, which will be shortened to 13 Rounds. We have 15 referees, 3 Commissioners and 3 representatives of the Referees' Commission. First tournament is taking place here in Zlatibor and in my opinion we haven't made a mistake, even though there are towns with greater basketball tradition in Serbia. I would like to thank Čajetina Municipality and BC Zlatibor, as well as hotels Palisad, Iris and Mons, since all of the teams are delighted with their accommodation and the measures in Zlatibor."
Arsen Đurić, President of the Assembly of Čajetina Municipality:
"It's an honour and delight that we are the hosts of such a tournament. When we have been awarded the hosting of the ABA League 2 tournament, we have invested vast funds into the renovation of the Zlatibor hall. We have installed new hardwood floor, bought new scoreboard and new baskets, which will be important for future preparations of sporting teams, which more and more often are coming to Zlatibor every year. I am convinced that Zlatibor, as the first category tourist centre and the most visited tourist centre in Serbia, will be excellent host, as we have demonstrated already in the first day. We have quality accommodation capacities and experts, that are ready to meet all of the requirements of the clubs and other guests.
I hope that in the near future some of the participating teams would choose Zlatibor as their destination for training camps and we will, as we have always been, be good hosts. I am convinced that this is the first of man tournaments, since we have all of the necessary conditions and knowledge for organization of such international competitions."