Đorđe Pažin signed with Sloboda Užice
Tuesday, 22. September 2020 at 17:46
Sloboda of Užice is stronger for another player, Đorđe Pažin, who used to wear Užice squad jersey laset season as well.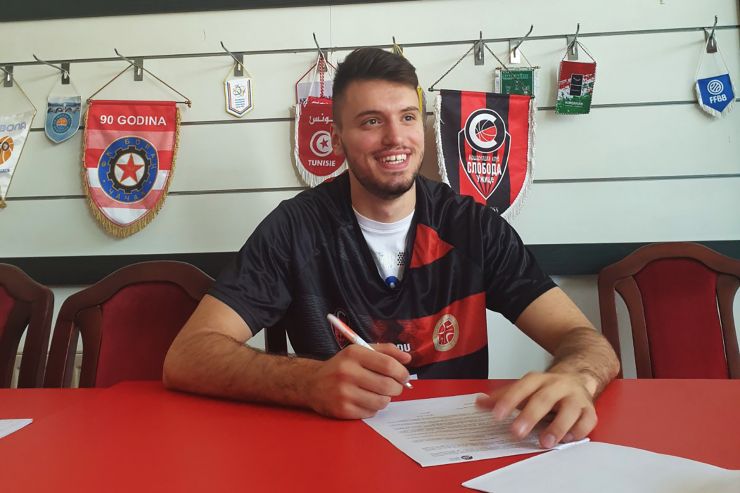 (Photo: Sloboda Uzice)
Đorđe Pažin has terminated his cooperation with FMP this summer so now he has signed directly with the club of Užice instead of being there on loan.
Pažin has been born on 31 March 2001 and covers positions 2 and 3. He used to be a member of all Serbia national team youth categories and will represent a big reinforcement for Sloboda, which will be playing on two "fronts" next season – ABA League 2 and Serbian Basketball Championship.
---------------------
Đorđe Pažin u Užičkoj Slobodi
Košarkaški klub Sloboda Užice je jači za još jednog igrača. U pitanju je Đorđe Pažin, koji je prošle godine takođe nosio dres Užičana.
Za razliku od prošle godine kada je bio na pozajmici, Pažin je ovaj put raskinuo ugovor sa FMP-om, potpisao sa Slobodom, i na taj način postao njen punopravan član.
Pažin je rođen 31. marta 2001. godine, visok je 2 metra, težak 86 kg, i pokriva pozicije 2 i 3. Bio je član svih mlađih reprezentativnih selekcija Srbije, i predstavljaće veliko pojačanje za Slobodu koju očekuju obaveze na dva fronta - u ABA 2 ligi, odnosno, Košarkaškoj ligi Srbije.