Lovro Buljević joins Široki
Monday, 14. September 2020 at 15:02
HKK Široki announced that they have signed contract with 210 cm tall center Lovro Buljević.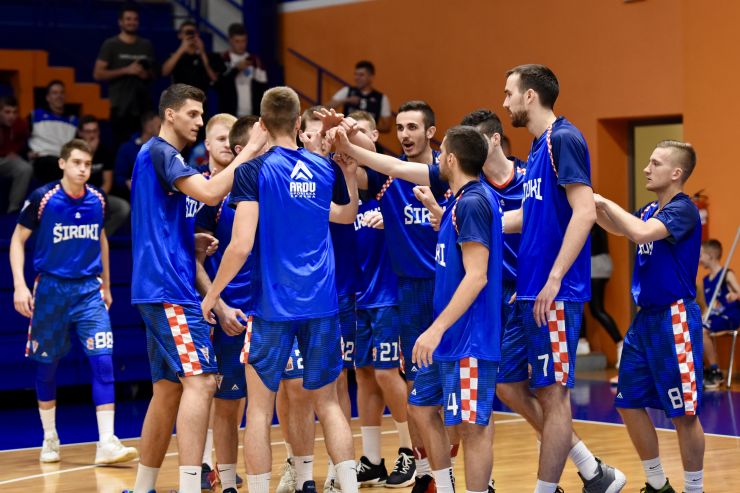 Siroki team (Photo: Helios Suns/Gasper Papez)
HKK Široki announced that they have signed a contract with 210 cm tall center Lovro Buljević.
Buljević has been practicing with Široki for some time and his performances during the preseason convinced the club management to offer him a contract.
This 22-year old center has previously played for Cibona, Zabok and Cedevita, while he spent the previous season in Vrijednosnice Osijek where he averaged 10.4 points, 5.2 rebounds and 1.2 assists.
"I am glad that I joined Široki as this is certainly a step forward in my career. During my time in Cibona and Cedevita I played with many of former Široki players and they have all recommended me to join this club. We are a young team and we will do our best to achieve the best score we can in the following season," said Buljević.
Also, Široki announced that they have parted ways Toni Ćutuk. The club thanked Ćutuk for everything he has done for Široki and wished him all the best in the future.
----------------
Lovro Buljević potpisao za HKK Široki, Ćutuku sporazumni raskid
HKK Široki dogovorio je suradnju sa hrvatskim igračem Lovrom Buljevićem koji je svojim nastupima na turniru zadovoljio stručni stožer.
Lovro Buljević (Zagreb, 1998 godište, 210 cm) igra na poziciji centra i mladi je hrvatski reprezentativac. U karijeri je nastupao za Cibonu, Zabok i Cedevitu, a prošle sezone je igrao u Vrijednosnicama Osijek s prosjekom od 10,4 poena, 5,2 skoka i 1,2 asistencija za 21 minutu po utakmici.
"Drago mi je što sam došao u HKK Široki. Ovo je sigurno iskorak u mojoj karijeri. Dosta bivših igrača Širokog sa kojima sam igrao u Ciboni i Cedeviti su mi preporučili da dođem ovdje. Mlada smo ekipa, boriti ćemo se da ostvarimo što bolji rezultat" izjavio je za službenu Facebook stranicu Lovro.
Također, došlo je do sporazumnog raskida ugovora sa igračem Tonijem Ćutukom kojemu se ovom prilikom zahvaljujemo i želimo mu puno sreće u nastavku karijere!