Sloboda signed with Mustapić
Wednesday, 26. August 2020 at 21:09
Shooting guard Jakov Mustapić has agreed on cooperation with Sloboda Tuzla.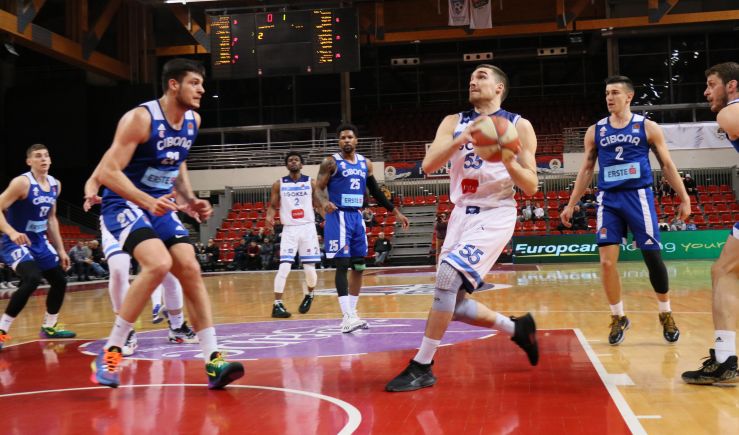 Jakov Mustapic (Photo: Igokea/Nikola Vuruna)
193 cm tall shooting guard Jakov Mustapić has been previously playing for Igokea. He is coming to Tuzla mostly because of head coach Damir Mulaomerović, with whom he has a great relationship.
"Coach Mulaomerović has contacted me and expressed his desire for me to arrive to Tuzla. I know what he is in the world of basketball, so I haven't had too much to think. I have heard all the best about Tuzla, both the club and the city and I am sincerely hoping that the fans will be able to watch us live," Mustapić stated.
In Croatia, he has been playing for six teams: Cedevita, Zabok, Kvarner, Osijek, Šibenik and Split and before coming to Igokea last season, he spent a season in Poland. He has also been playing for the youth categories of the Croatia national team and senior squad afterwards.
--------------------
Mustapić potpisao za Slobodu
Bek šuter Jakov Mustapić potpisao je ugovor sa Slobodom iz Tuzle.
Visok 193 centimetra Mustapić igra na poziciji bek šutera, a prethodno je nastupao za Igokeu iz Aleksandrovca. Rođen je 1994. godine u Zagrebu i u Tuzlu stiže, kako i sam kaže, ponajviše zbog trenera Damira Mulaomerovića s kojim je u dobrim odnosima.
"Trener Mulaomerović me kontaktirao i izrazio želju da dođem. Znam ko je i što je on u svijetu košarke te se nisam dovumio oko odluke. Sve najbolje sam čuo o Tuzli, kako gradu tako i o klubu i iskreno se nadam da će nas navijači imati priliku gledati uživo", krakto je izjavio Mustapić nakon okupljanja za medije.
U Hrvatskoj je nastupao za čak šest ekipa: Cedevita, Zabok, Kvarner, Osijek, Šibenik i Split, a prije nego što je stigao u Igokeu prošle sezone odigrao je jednu sezonu u Poljskoj. To mu je bio drugi klub u okviru Poljske lige u karijeri. Pored klupske karijere, Jakov je nosio dresove omladinskih selekcija reprezentacije Hrvatske nakon čega je upisao i seniorske nastupe.