Adi Alikadić signs contract with Sloboda Tuzla
Wednesday, 26. August 2020 at 13:56
The red-and-blacks have added another new player to their 2020/21 roster.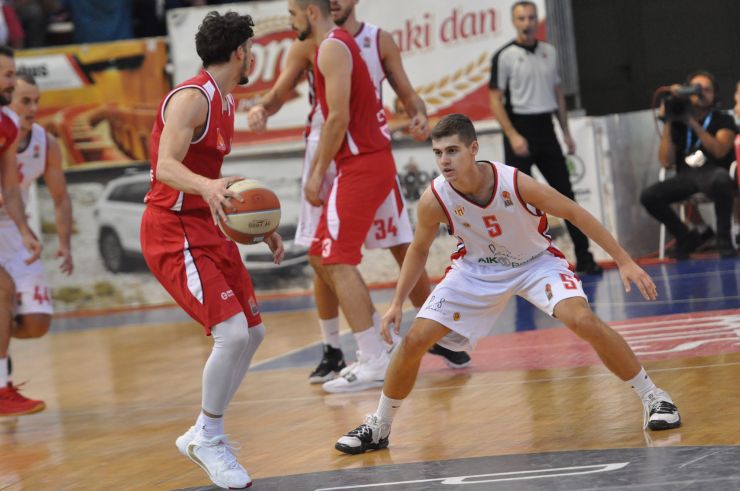 Adi Alikadic (Photo: Borac/Dusko Radisic)
Sloboda Tuzla have signed a contract with talented shooting guard Adi Alikadić!
This 21-year-old player spent the previous two seasons in Borac, with whom he won the first place in the 2019/20 ABA League 2 regular season. He averaged 4.5 points, 1.4 rebounds and 1.2 assists per game in the 2019/20 ABA 2 championship.
Alikadić was part of the Bosnia & Herzegovina U16 team which won the gold medal at the U16 FIBA Eurobasket 2015.
"Tuzla is the city of basketball and I am very happy that I will play for Sloboda. I have high expectations for the next season and I hope that our hard work will be rewarded with good results, said Alikadić.
-------------
Adi Alikadić novo ime u dresu Slobode
Novo košarkaško ime stiže u Tuzlu iz redova prošlosezonskog rivala u ABA 2 ligi. Naime, radi se o mladom Adiju Alikadiću koji nakon dvije sezone provedene u Čačku dres Borca zamijenit će onim Slobode. Adi je rođen u Goraždu 1999. godine, visok je 190 cm i pokriva bekovske pozicije, te je mnogima poznat po svojim nastupima u mlađim selekcijama reprezentacije BiH.
Također, Alikadić je bio član zlatne kadetske reprezentacije koja je 2015. godine savladala domaćina Litvaniju za titulu prvaka Europe. Pored Borca, prethodno je nastupao za ekipu Bosne.
"Tuzla je grad košarke i drago mi je što ću igrati upravo za ekipu Slobode. Očekujem dosta od ove sezone, maksimalno zalaganje u oba takmičenja i nadam se da ćemo svoj rad na kraju nagraditi dobrim rezultatima", izjavio je Alikadić po dolasku u Tuzlu.