MZT complete their 2020/21 roster by signing Toddrick Gotcher
Thursday, 20. August 2020 at 14:31
The Skopje team made their final signing this summer.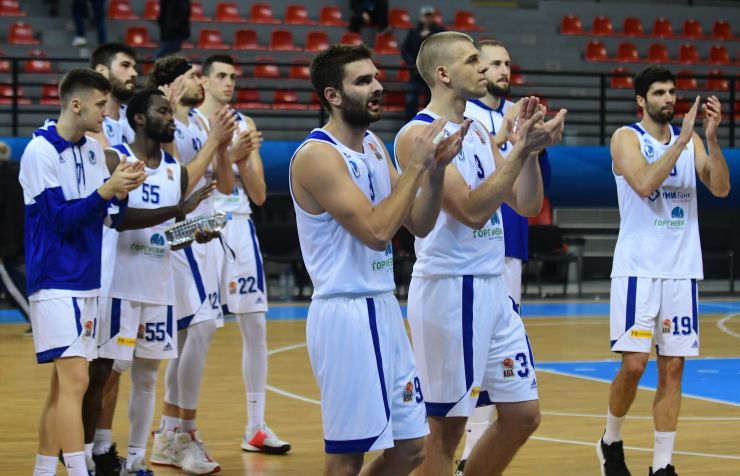 MZT Skopje Aeodrom team (Photo: MZT Skopje Aerodrom/Petr Stojanovski)
MZT Skopje Aerodrom announced that they have signed a contract with 27-year old American shooting guard Toddrick Gotcher.
Gotcher studied at the Texas Tech University, while he's been playing in Europe in the last four seasons. He played for Greek team Koroivos Amaliadas (2016/17), French side Cholet (2017/18), Greek team Ifaistos Limnou (2018/19), while he spent the previous season in Turkich giant Besiktas Sompo Japan. Gotcher averaged 9.4 points, 4.7 rebounds and 2.3 assists in the 2019/20 Turkish Championship, while he averaged 10.8 points, 3.5 rebounds and 1.6 assists in the 2019/20 FIBA Champions League.
After announcing the arrival of Toddrick Gotcher, MZT Skopje Aerodrom have confirmed that they have completed the roster for the 2020/21 season. The following players will be part of the Skopje crew in the next season – Damjan Stojanovski (captain), Hassani Gravet, Olufemi Olujobi, Toddrick Gotcher, Andrija Bojić, Bojan Krstevski, Andrej Magdevski, Andrej Maslinko, Kristijan Nikolov, Adem Mekić and Filip Bakoč. Also, MZT stated that several junior players will be included in the first team for the 2020/21 season.
------------------
Amerikanec od Bešiktaš go kompletira rosterot na MZT Skopje za novata sezona!
Amerikanskiot košarkar Todrik Gočer (27 god, 193 sm) e najnovoto zasiluvanje za MZT Skopje Aerodrom, so što makedonskiot tim go kompletira sostavot so koj će ja počne novata sezona i toa so sedumina makedonski reprezentativci i četvorica internacionalci.
Stanuva zbor za isklučitelen bek-šuter, koj vo Aerodrom doađa po sezona minata vo silniot turski prvoligaš Bešiktaš, so koj nastapuvaše i vo prestižnata Liga na šampionite na FIBA. Gočer vo turskoto prvenstvo nastapi na 23 sredbi so prosek od 9,4 poeni, 4,7 skoka i 2,3 asistencii dodeka vo LŠ na 16 meča prosečno realiziraše 10,8 poeni, 3,5 skoka i 1,6 asistencii. Prethodno ima nastapuvano vo dva grčki tima i toa Koroivos i Ifaistos, kako i za francuski Šole. Pred da dojde vo Evropa, vo amerikanskata NCAA-liga nastapuval za prestižniot Teksas Tek univerzitet, kade što bil najdobar vo timot vo poslednata godina od studiite.
Gočer e tretiot Amerikanec na koj trenerot Đorđi Kočov će smeta vo novata sezona, zaedno so Femi Oludžobi i Hasani Gravet, a pokraj niv će bide i srpskiot internacionalec Andrija Bojić. Kapitenot Damjan Stojanovski će go predvodi makedonskiot septet, vo koj se ušte i Bojan Krstevski, Andrej Magdevski, Andrej Maslinko, Kristijan Nikolov, Adem Mekić i Filip Bakoč. Letovo, a i ponatamu sezonava, so prviot tim će rabotat i najdobrite talenti od mladinskata škola na "metalcite", so cel da steknat dragoceno iskustvo.