Olufemi Anthony Olujobi pens a new 1+1 contract with MZT Skopje Aerodrom
Monday, 13. July 2020 at 17:16
The 24-year old American power forward is staying in Skopje!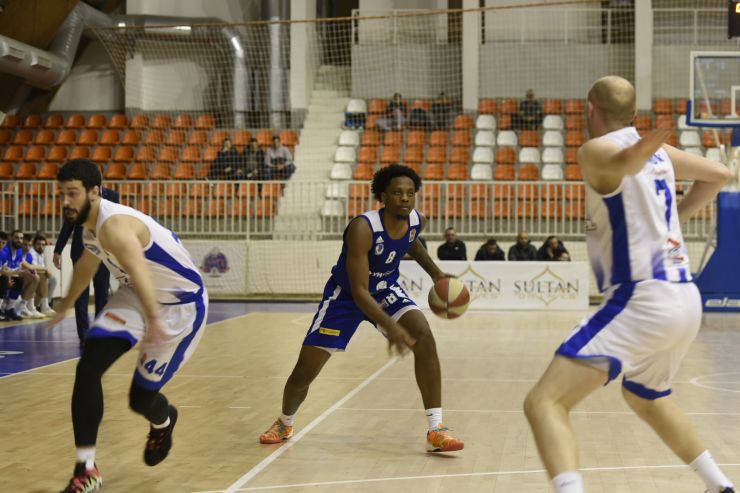 Olufemi Anthony Olujobi (Photo: Novi Pazar/Senad Zupljanin)
Olufemi Anthony Olujobi and MZT Skopje Aerodrom have signed a new 1-year contract, with an option to extend it for one more season.
Olujobi is therefore staying in Skopje where he left quite a mark in the last season. This 24-year old American power forward played three games for MZT Skopje Aerodrom late in the 2019/20 ABA 2 campaign and he averaged 16 points & 8 rebounds per game.
MZT Skopje Aerodrom have so far confirmed 7 players to be part of their 2020/21 roster, including Olufemi Anthony Olujobi, Damjan Stojanovski, Andrej Maslinko, Filip Bakoč, Adem Mekić, Andrej Magdevski and Bojan Krstevski.
--------------
Amerikanecot Oludžobi ušte edna sezona vo dresot na MZT Skopje Aerodrom
Amerikanecot Femi Oludžobi (24 god, 206 sm) i vo slediot period će go nosi dresot na MZT Skopje Aerodrom, otkako deneska potpiša nov ednogodišen dogovor so našiot tim, so možnost toj da bide prodolžen za ušte edna sezona.
Stanuva zbor za izvonreden krilen centar, koj vo Aerodrom dojde vo fevruari godinava i za necel mesec, do prekinot poradi pandemijata so koronavirusot, uspea da go osvoi srcata kako na luđeto vo klubot i soigračite, taka i na našite navivači. Oludžobi nastapi na tri sredbi vo ABA2-ligata so prosek od 16 poeni i osum skoka, kako i na dva meča vo Prvata liga vo koi prosečno realiziraše 16,5 poeni i pet skoka. Pred da dojde vo "Jane Sandanski", toj nekolku meseci odigra vo Litvanija i toa za ekipata na Lietkabelis, a prethodno, vo amerikanskata NCAA-liga, nastapuvaše za Ouklend koledžot, AiT univerzitetot od Severna Karolina i za univerzitetot Depol.
Toj e sedmi siguren košarkar vo rosterot na trenerot Đorđi Kočov za novata sezona, otkako prethodno bea obnoveni dogovorite so kapitenot Damjan Stojanovski i Andrej Maslinko, bea angažirani Filip Bakoč i Adem Mekić, dodeka od minatata sezona dogovorni obvrski imaat ušte i Andrej Magdevski i Bojan Krstevski.