Sweet overtime win for Mornar in Ljubljana
Saturday, 18. January 2020 at 17:00
In the opening game of the ABA League Round 16, Mornar have celebrated a win after overtime over Cedevita Olimpija in Ljubljana.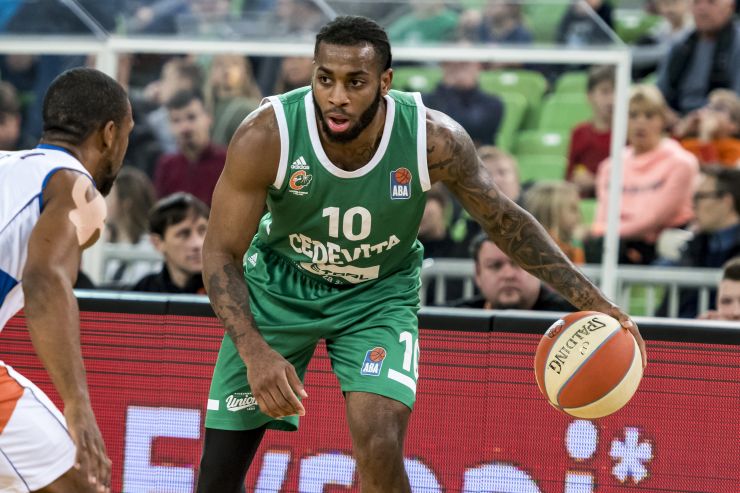 Codi Miller-McIntyre (Photo: Cedevita Olimpija/Jurij Kodrun)
ABA League Round 16, Saturday, 18.1.2019:
Cedevita Olimpija - MORNAR 90:91 (23:18, 20:26, 20:19, 16:16, 11:12)
Game recap: In the 16th round of the ABA League season, Mornar have celebrated a hugely important win on the road in Ljubljana over Cedevita Olimpija and have grabbed their ninth triumph of the ABA League season. They have now re-entered the Playoffs race, as they are on the same number of wins as FMP and Crvena zvezda mts (which both still have one more game to play) and a win beneath Cedevita Olimpija.
Key moments: In the dying moments of the game, it seemed like Cedevita Olimpija would keep a pair of points at home, as they were up by 3, but Derek Needham scored a three-pointer to tie the game at 79:79. In the overtime, Mornar quickly got in front and remained there until the end. Lance Harris missed both free throws with six seconds remaining in the overtime and Mornar were up by a point, while Cedevita Olimpija had the last possession. Codi Miller-McIntyre took a tough fade-away shot in the last second, but missed. Mornar celebrated.
Man of the match: Derek Needham was not only the key for forcing overtime for Mornar this time, but also carried the toughest burden in the overtime, with Jacob Pullen being off the court with 5 personal fouls. He finished the game as top scorer of Mornar with 22 points, while adding 6 rebounds, 3 assists and a valuation of 16. He is our man of the match.
Can't trick the stats: There were no major statistical differences between the two sides, which is natural, as the game went to a close finish and the stats only reflect that fact.