They meet again in the Finals – Crvena zvezda mts host Budućnost VOLI
Thursday, 11. April 2019 at 11:00
A year after the last season's ABA League Finals, Crvena zvezda mts and Budućnost VOLI are back in the battle for the trophy. Can the reigning champions of Podgorica defend it, or can the red and white of Belgrade bring it back to their cupboard?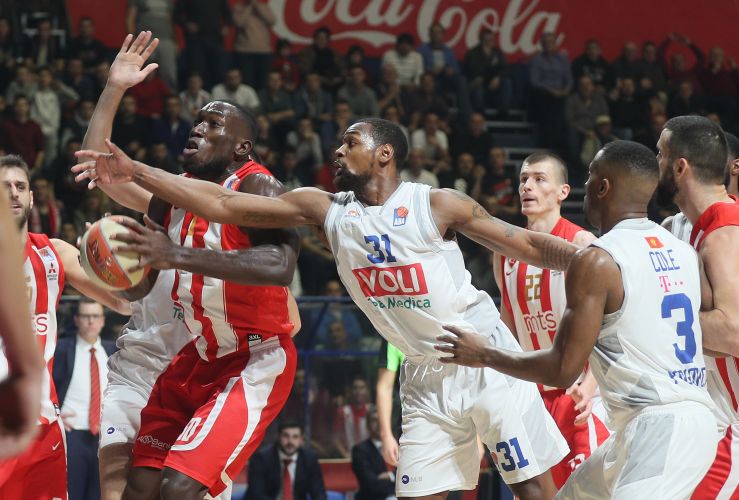 Michael Ojo (Photo: Crvena zvezda mts)
ABA League Finals, Round 1, Friday, 12.4.2019:
CRVENA ZVEZDA MTS – BUDUĆNOST VOLI
Where? Aleksandar Nikolić Hall, Belgrade
When? 19:00
Story of the game: The final stage of the 2018/19 ABA League season is coming up and what we are about to witness is the repetition of the last season's Finals, as Crvena zvezda mts will be facing Budućnost VOLI again in the battle for the trophy!
It seems like the two sides are the perfect match for what will for sure be a dramatic final series, as the first placed team after the regular season, Crvena zvezda mts, will be facing the reigning champions, Budućnost VOLI.
The last time that the two squads have met in the Finals, last season, Budućnost VOLI got away with a 3:1 win in the series over Crvena zvezda mts, but, we should also mention the fact that the two times that the two squads have met this season in the regional competition, the red and white of Belgrade have both times prevailed. And… so far they have lost only two games this season – against Cedevita in the Regular Season on the road in Zagreb and against Partizan NIS in the Semi-finals on the road as well. On the other hand, Budućnost VOLI have suffered seven ABA League defeats so far this season, but came out the strongest, when it mattered the most and beat Cedevita 2:1 in the Semi-finals with a big victory on the road in Dražen Petrović Arena in the decisive third game.
Who will prevail this time around? Stay tuned and find out…
Match-up in focus: What will for sure be an intriguing clash to watch will be the battle of two centers – Michael Ojo of Crvena zvezda mts and Goga Bitadze of Budućnost VOLI in the paint beneath the rims. The ABA League Regular Season MVP Goga Bitadze has been proving his dominance all season long on the ABA League courts, averaging 12 points and 5 rebounds per game, which makes him second best in both categories at Budućnost VOLI squad. On the other side, he will this time have a whole lot of muscles – as he will be facing Michael Ojo – the center that has simply dominated the paint in the Semi-final series against Partizan NIS. Who will come out on top of this clash?
Head to head in the regional league: In total 20:17; In Belgrade 16:3.