It's Playoffs time, it's derby time!
Friday, 22. March 2019 at 11:00
The 2019 ABA League Playoffs are about to begin and it will start with a bang, as two eternal Belgrade rivals Crvena zvezda mts and Partizan NIS will be battling for a victory in the legendary Aleksandar Nikolić Hall.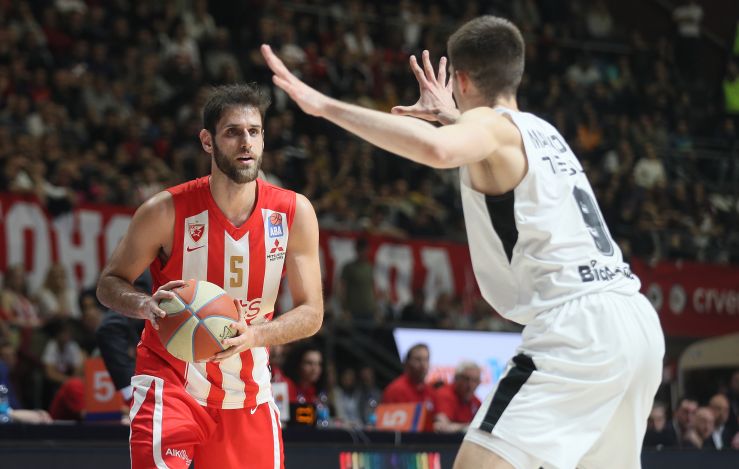 Stratos Perperoglou (Photo: Crvena zvezda mts)
ABA League Semi-finals, Round 1, Saturday, 23.3.2019:
CRVENA ZVEZDA MTS – PARTIZAN NIS
Where? Aleksandar Nikolić Hall, Belgrade
When? 19:00
Story of the game: The battles of Crvena zvezda mts and Partizan NIS have always been iconic, and it will of course not be any different this time, as the red and white and the black and white have lots at stake – a place in the big Finals of the ABA League season.
The first episode of the #RoadToGlory will begin on Saturday at 19:00 in Aleksandar Nikolić Hall, when we will see which of the two teams would take advantage in the Semi-final series.
Before the beginning of the spectacular peak of the season – the ABA League Playoffs – Crvena zvezda mts are of course the ones whose odds are looking better at the moment. Not just because of the home court advantage in the first game, but also due to their fantastic regular season record, when they have won 21 out of their 22 total games played. On the other side, Partizan NIS have won 14 so far this season, three of last five and they are even heading to the Playoffs after the defeat in the last round of the Regular Season against FMP.
But, the outcomes of such games are always truly difficult to predict and so will be this time. Wonder what tradition tells us? In total, Crvena zvezda mts have won 18 games against Partizan NIS in the regional competition and Partizan NIS have won 19. At Zvezda's home court, the score is 9:8 in favour of the red and white.
In the knockout stages of the regional competition, the two sides have met so far in 4 seasons. Partizan NIS have come out on top 3 times (they have advanced to the next stages 2 times and once won the trophy in the final). Zvezda have advanced to the next stage once. Totally, Partizan NIS have won 4 games in the knockout stages against Crvena zvezda mts, and the latter won 3.
Match-up in focus: Joe Ragland or Alex Renfroe? There will be a huge battle between the two excellent point-guards on both sides this time on the court of Aleksandar Nikolić Hall. Both are currently the top passers of their squads. While Ragland is averaging 6 assists per game in the ABA League, Renfroe is averaging 5.3. Who will prevail in this clash?
Head to head in the regional league: In total 18:19; At Crvena zvezda mts' home court 9:8.