Krka beat Olimpija in final game and escaped the danger zone
Sunday, 17. March 2019 at 21:00
In the last game of the regular season, the fans have witnessed a true thriller in Novo mesto in the big local derby of Krka and Petrol Olimpija and the hosts sure left the hall satisfied – as they have beaten their arch rivals and secured themselves the ABA League status for another season.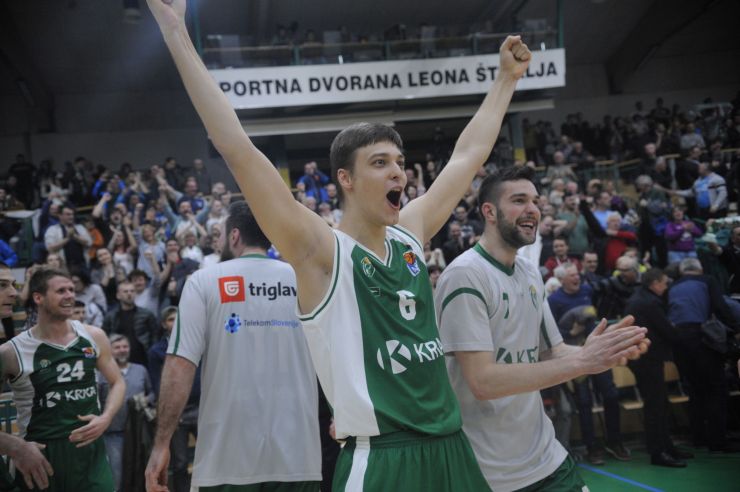 Miha Skedelj (Photo: Krka/Drago Perko/kosarka.si)
ABA League Round 22, Sunday, 17.3.2019:
KRKA - Petrol Olimpija 62:59 (17:13, 15:18, 16:16, 14:12)
Game recap: The regular season is over and it has ended with style – with a dramatic big local derby of Krka and Petrol Olimpija in Novo mesto in the packed Leon Štukelj Sports Hall and the winners were the hosts, that will therefore continue to participate at the elite level of ABA League. Petrol Olimpija, on the other side, ended their season with six victories, one less than Krka and Zadar and have taken the final last place in the ABA League standings.
Key moments: With a minute and a half remaining in a dramatic game, Krka were still up by only 2 points (57:55), but then Balažić and Lapornik combined 4 points (2 apiece) and took Krka in front by 6 points (61:55) with 38 seconds left on the game clock. There was no option of a return into the battle for the victory for the guests.
Man of the match: Once again it was Dominik Mavra, who led the way for Krka towards another victory. He was the top scorer of the Novo mesto squad with 9 points, while adding 5 assists, 4 rebounds and a valuation of 12 to his stats. He is our man of the match.
Can't trick the stats: In games such as this one, dominating on the glass is a hugely important aspect. This time Krka won the rebounding battle 33:28 and that was crucial for the outcome of the game.