Olimpija escape the bottom by beating Mega
Sunday, 13. January 2019 at 17:00
In the first game of the ABA League's Sunday schedule, Petrol Olimpija have beaten Mega Bemax at home in Stožice Arena.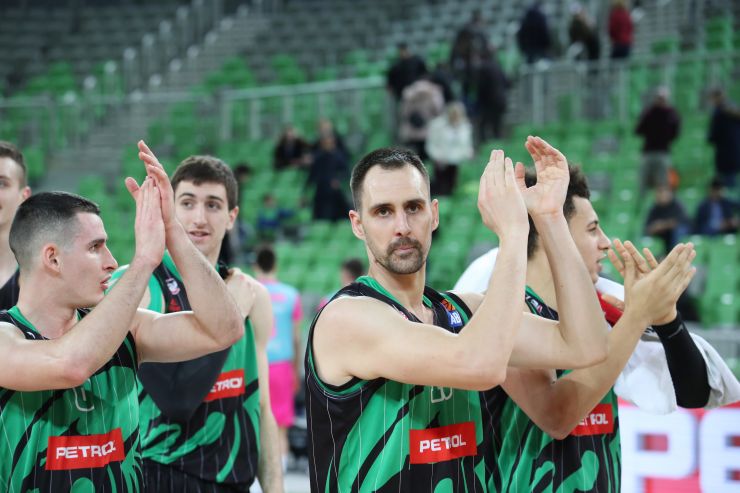 Domen Lorbek (Photo: Petrol Olimpija/Ales Fevzer)
ABA League Round 15, Sunday, 13.1.2019:
PETROL OLIMPIJA - MEGA BEMAX 91:78 (15:20, 20:23, 26:18, 30:17)
Game recap: Petrol Olimpija breathe easier after the 15th round of the ABA League season, as they have grabbed an important win in the battle of young prospects against Mega Bemax, which moves them away from the very bottom of the standings. This is the fifth win of the Dragons this season, while Mega Bemax continue the battle for the Playoffs spot with 8 wins on their record.
Key moments: Mega Bemax have had a huge lead already in the first half, as they have been up by 14 points already in the 13th minute (29:15). However, Petrol Olimpija fought back and step by step they managed to erase the lead by the end of the third quarter, when the score was 61:61. In the final quarter, the hosts have taken control and turned the game their way.
For the last time, the teams were close at the score 75:73 with 4 minutes left on the game clock. But then Olimpija made 9:0 run over the next two minutes which took them ahead by 11 points (84:73). And the winners were decided.
Man of the match: Domen Lorbek, who returned to Petrol Olimpija recently showed how valuable his experience is. He scored 23 points to lead the way in scoring for his team, while adding 2 assists, 1 rebound, 1 steal and a valuation of 25 to his stats. He is our man of the match.
Can't trick the stats: Petrol Olimpija have turned the game their way with their field goal shooting. They shot field goals 50.8% and Mega Bemax only 40%.