Partizan NIS celebrate in Ljubljana for 1st time since 2013
Saturday, 29. December 2018 at 17:00
At the dawn of the new year, Partizan NIS will be a step closer to reaching their goal – qualifying for the ABA League Playoffs, after they have beaten Petrol Olimpija on the road in Ljubljana.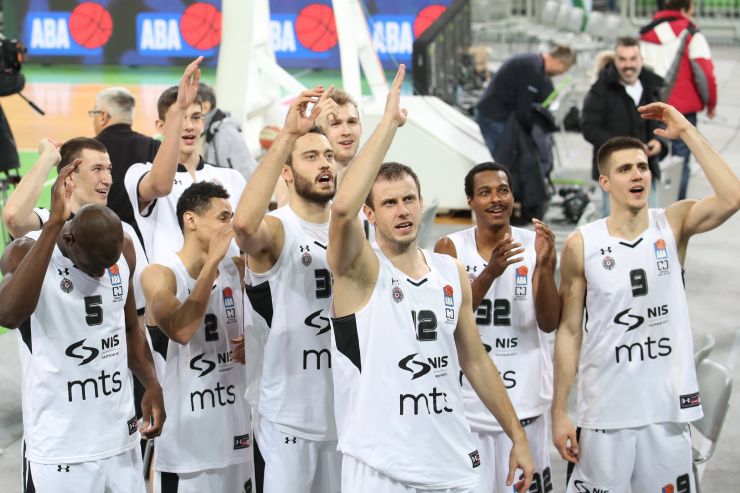 Partizan NIS team (Photo: Petrol Olimpija/Ales Fevzer)
ABA League Round 13, Saturday, 29.12.2018:
Petrol Olimpija - PARTIZAN NIS 66:72 (15:15, 17:18, 19:20, 15:19)
Game recap: In the ABA League classic in Ljubljana, Partizan NIS have beaten Petrol Olimpija on the road in Stožice Arena in Ljubljana, after they have been in front for the majority of the game and have finally cracked the resistance of the hosts in the final quarter. This win gets the black and white a step closer to reaching their goal and qualifying for the Playoffs, as the are now only a win below Mega Bemax in the fourth place. This is also the first win of Partizan NIS on the road in Ljubljana against Petrol Olimpija since 2013. On the other side, Petrol Olimpija continue their battle to avoid the danger zone, as they are placed at the very bottom of the standings with 4 triumphs.
Key moments: When Roko Badžim scored his 3-pointer with 6 minutes remaining on the game clock, the difference between the two squads was only a point (60:61). However, Partizan NIS made a 6:0 run over the following 3 minutes of the game and pulled away by 7 (60:67). With only 3 minutes left in the game, there was not enough time for the hosts to turn the game around.
Man of the match: Vanja Marinković was the top performer for Partizan NIS in the game against Petrol Olimpija, as he had 13 points, 5 rebounds, 2 assists, 1 steal and a valuation of 17. He is our man of the match.
Can't trick the stats: Partizan NIS have outrebounded Petrol Olimpija 38:29. That's what decided the flow of the game.