National Championships: Petrol Olimpija beat Krka and take the title in Slovenia!
Tuesday, 29. May 2018 at 22:12
The 1st ever champions of ABA 2 did not succeed in winning the crucial Game 5.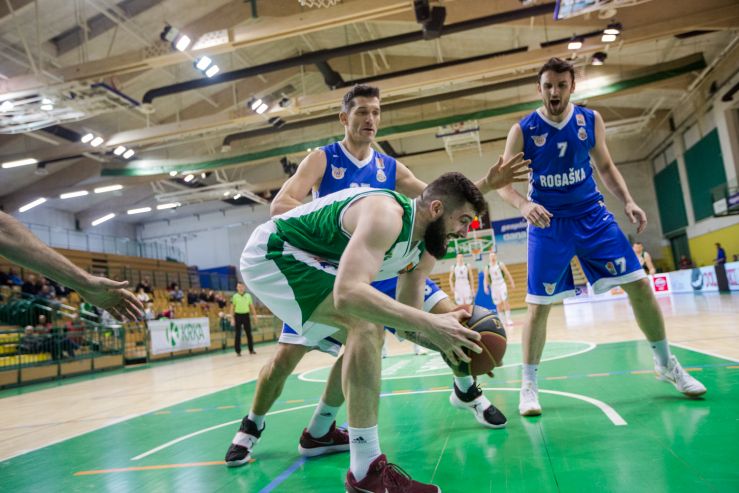 Ziga Dimec (Photo: Krka/Danilo Kesic)
That is what happens when two ABA League teams play a game for the trophy!
Petrol Olimpija scored a thrilling overtime win against Krka in Game 5 of the 2017/18 Slovenian Championship Finals and therefore became the national champions for the 17th time in club's history. It is also the 2nd national title in a row for the Dragons.
In a really epic battle between two big rivals, the hosts had more concentration at the end. Krka had a chance to win the game and the title in the final moments of the 4th quarter, but Marko Jošilo missed the 2nd free throw at the score of 86:86, with 7 seconds remaining on the clock.
The match went into overtime, where Petrol Olimpija had the lead all the way till the end.
FMP have taken the lead against Borac in the 2017/18 Serbian Championship Semi-Finals, after winning Game 1 at home court.
It was indeed an exciting game in which the visitors had a chance to score a stunning last-second win, but their point guard Ilija Đoković missed a 3-pointer from a very difficult position and the score remained – 71:69 for FMP. Game 2 is scheduled for Thursday and it will be played in Čačak.
Meanwhile, Dynamic VIP Pay have easily defeated Zlatibor in a classification game.
Slovenian National Championship Finals Round 5, Tuesday, 29.5.2018:
PETROL OLIMPIJA - Krka 95:90 (30:28, 17:17, 21:21, 18:20, 9:4) /* 3:2 in victories
Morgan 23, Oliver & McCarron 16 | Dimec 21, Zagorac 17.
Serbian National Championship Semi-finals, Round 1, Tuesday, 29.5.2018:
FMP - Borac 71:69 (20:14, 14:17, 17:19, 20:19) /* 1:0 in victories
Nenadić 22, Ojo 14 | Stojadinović 15, Đoković 14.
For Classification 4-8th place:
DYNAMIC VIP PAY - Zlatibor 118:76 (29:24, 28:19, 32:21, 29:12)
Radonjić 24, Kapetanović 17 | Vulić 17, Papić 15.