FEC: Mornar victorious, Bosna defeated
Wednesday, 18. October 2017 at 23:24
Mornar have successfully began their FIBA Europe Cup campaign with a triumph over FC Porto, while Bosna Royal were defeated by Telenet Giants Antwerp.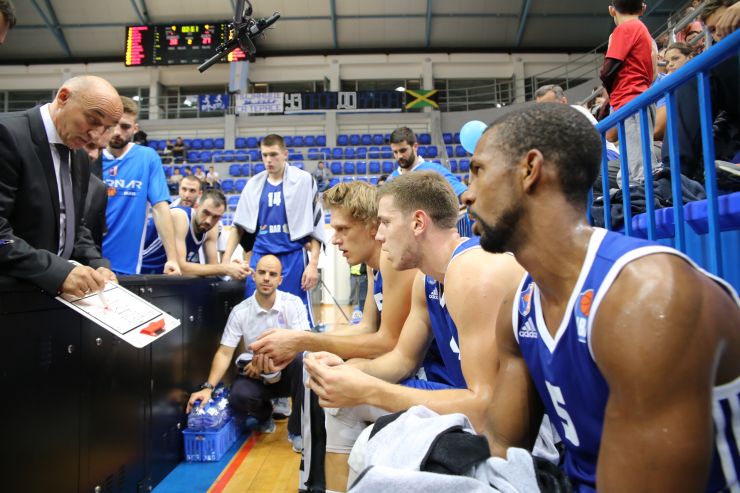 Mihailo Pavicevic (Photo: Mornar/MEDIA Pro)
In the first round of the season in the FIBA Europe Cup, Mornar were victorious at the home court of Topolica Sports Hall in Bar against Portuguese side FC Porto, after they have been the better of the two opponents throughout the game. In the end they have celebrated the triumph with the score of 81:70. Strahinja Mićović was the most prolific shooter this time, as he scored 17 points, Vukota Pavić added 15.
At home in Sarajevo, Bosna Royal suffered a defeat to Telenet Giants of Antwerp, after a sloppy beginning of the game was decisive for the game's outcome. The guests have led by 10 points after just as many minutes and have controlled the flow of the game until its end, when the score was 91:84. Bradford was the top scorer of Bosna Royal with 29 points, while Šturanović added 14.
FIBA Europe Cup Regular Seson Group A, Round 1, Wednesday, 18.10.2017:
Bosna Royal – TELENET GIANTS ANTWERP 84:91 (15:25, 22:20, 23:23, 24:23)
Bradford 29, Šturanović 14 | Kalinoski 19, Clark 16.
STANDINGS:
Group A
W/L
P

1

Telenet Giants Antwerp
1/0
2

2

Donar Groningen
1/0
2

3

ESSM Le Portel
0/1
1

4

Bosna
0/1
1
Group C:
MORNAR – FC Porto 81:70 (23:24, 18:12, 25:16, 15:18)
Mićović 17, Pavić 15 | Gilbert and Borovnjak 21.
STANDINGS:
Group C
W/L
P

1

Kataja Basket
1/0
2

2

Mornar Bar
1/0
2

3

FC Porto
0/1
1

4

Kapfenberg Bulls
0/1
1